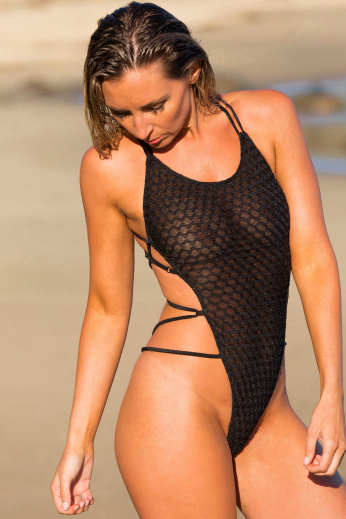 Hover your mouse over an image to zoom.

video
Aphrodisiac
(3)
Aphrodisiac One Piece Thong - Pulled together in all the right places, the Aphrodisiac lives up to it's name! Casings for free flow of straps are located throughout the suit. Fully adjustable bra style strapping underneath the arms, allows you to feel secure in this racy one piece.
Note: Orders with Lining, Strapping or Color changes are custom made & are non-refundable, non-exchangeable. Allow up to 5 additional business days for production.
The sheer patterned stretch fabric, leaves just enough to the imagination. Lining in the crotch only. Special thanks to our model Danielle Ruiz
Special Orders: Additional delivery time and/or an additional charge may be applied for special orders including 1X and 2X sizes.
Featured Reviews:
Excellent comme toujours
05/11/2020
Je suis très heureux de trouver l'article commandé dans une taille plus grande (18) que ce qui était proposé les autres années (16 maxi) et qui me privait de ces fabuleuses créations. Je vous encourage beaucoup à poursuivre cette démarche, vous y gagnerez des clients. 18, 20 22, voilà des tailles où il y a de la demande, ne vous arrêtez plus à 16 merci d'avance. Rien à dire de l'article que l'on voit sinon préciser l'excellence de la qualité du tissu.
Custom Bikini
06/01/2020
I was very hesitant to buy a one piece bikini because my torso is so long. I had a very pleasant interaction with customer service on my specific needs. Brigitewear custom made me the perfect one piece bikini! I have never been so happy! Thank you!!
Beautiful Swimsuit
02/24/2019
It took me a minute to figure out how to put it on when it arrived but it's beautiful once I got it on. It's well-made too. I will buy more swimsuits from Brigitewear soon!