Perhaps the more appropriate question would be HOW to wear one-piece swimsuits as bodysuits on the streets during the day, or at nighttime as evening tops? Because you see… we're queens we CAN bloody do anything we want. No, this is not a joke-post, I am seriously asking this question and with it, doing this look. I would't be the first one actually. Well… perhaps among the few mortals, cause them VIPs and celebs have resorted to this look quite a few times.
Uh-huh. I am looking at you Kim Kardashian, Bey, Rihanna, Selena Gomez, out in your one-piece swimsuits with jeans or pencil skirts, having figured out the best and coolest way to stretch the swimwear right into the cold-er season, AND onto the streets. It's brilliant actually.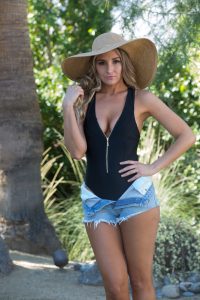 I am all for taking the one-piece swimsuits from the beach and right to the streets, to meetings, to evenings out, to brunches, to lunches, to movies, to walks, to picnics. Ha, come to think of it, it's a brilliant way to marry the 2 trends: beach and town life, and in the not-so-often-case of running into the sea in the middle of your city, or a river, a pond, a pool whatever, you've got your fucking swimsuit on. All we gotta do is take the pants off and go for a swim. Or just a quick suntan.
So the answer to the above is YES. Pure and simple. Now comes the WHY.
Why in the name of God would we wear one-piece swimsuits as bodysuits? Well, that's because we're quirky, with a dash of old-school style, and a bit of rebelliousness and edginess to us. Everybody can do bodysuits, but everyone can pull off swimsuits as city-clothes too! And, to tell you the truth… it's also because we kinda love our one pieces way way way way waaay (read in Drake's lyrics) too much to save it just for the beach. What a waste that would be. So what do you say what do you know we're taking them out, and wearing them with jeans, with skirts, with shorts and anything in between.
HOW to wear swimsuits as bodysuits? And now the party begins. First of all however you want it, and second of all anywhere.
The best one-pieces swimsuits to wear are the simple, classic ones with an open back, and thin spaghetti straps. The ones in blue, black, white, red, green look fantastic especially with a funky print on front. We have TONS to choose from at Brigitewear!
If, more sophisticated cuts and designs are your penchant, keep the color-print party to a minimum and opt for white or black swimsuits as bodysuits. Have fun with intricate back designs, but try to keep the front as business as you can. Not too deep-cut, not too sexy, for no other reason than the fact that you'll be wearing it as a top.
Of course if you're a Rihanna-style-sibling you could pull off a totally sheer swimsuit to show off those badass tats and piercings.
What to wear with the one-piece swimsuit?
JEANS look absolutely amazing, whether they're skinny, boyfriend, baggy, ripped, high waisted, mom-jeans. Anything denim looks brilliant.
Personally I love the high-waisted skinny jeans with a basic black one-piece swimsuit (80s style baby!), AND the baggy jeans, sitting low rinse, with a white open back one-piece swimsuit.
Cutoffs, shorts, and mini skirts look great if you're going for a very cool young relaxed style. It's girly with a twist of rebel to it. It's young, as if you're living somewhere close to the beach and always have your swimsuit on.
Pencil skirts, a la Kim Kardashian is the polished posh uber hot version of this look. She did actually wear her one-piece swimsuit with a pencil skirt and heels and let me tell you: she pulled it off. So… there's some food for thought, date-night wise.