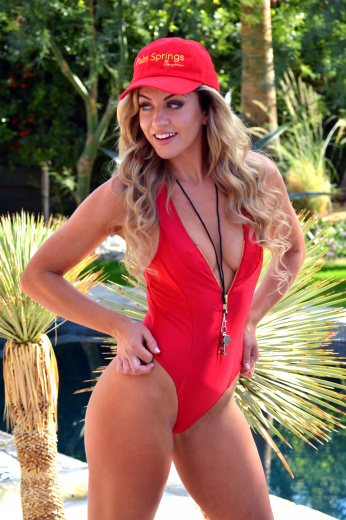 Hover your mouse over an image to zoom.

video
Zip Down Baywatch One Piece
Zip Down Baywatch One Piece
8
Average rating:

(8)
Zip Down
Baywatch 2017 styled swimsuit*
Commemorative bathing suit inspired by Baywatch the movie in theaters May 2017
High cut legs

Adjustable zipper front

Princess cut design

Perfect for swimming & sports

sizes XSmall to 2X
This fabulous one piece, inspired by the 2017 Baywatch Movie, sports an adjustable zipper front, athletic racer back, and high cut legs.The adjustable zipper lets you decide your selected amount of cleavage. This suit is unlined with crotch lining only. Get that famous Malibu lifeguard look in a suit you will love for years to come. *Brigitewear International, LLC is not affiliated with Baywatch, Paramount Pictures, or any affiliate thereof
Special thanks to our models Cali Miles & Tashia McIntosh
Special Orders: Additional delivery time and/or an additional charge may be applied for special orders including 1X and 2X sizes.
Featured Reviews:
Zip Down Baywatch One Piece

Sexy and provocative with my grilfriend
08/15/2017
I liked it a lot, the perfect size very fast shipping, in just one week and ease of payment, my girlfriend I have given one like this that he likes very much and is very attractive and sexy, also used in bed when Asks me to make love on weekends, with the front zipper looks very sexy and provocative when you lower it

The excellent quality, the perfect service, the speed of shipping, its affordable prices and the extensive catalog excellent

We use it on holidays and weekends for couple occasions in bed
My girlfriend has a collection of swimsuits of this brand that I went shopping for, wearing thong looks very beautiful and explosive on the beach and in the pool and then in the scenes of bed when I make love

Congratulations once more for your store
Zip Down Baywatch One Piece

very beatiful and confortable
06/29/2017
I liked it very very comfortable, simple and fast purchase and the perfect size

Ideal for swimming pool for summer holidays and winter holidays in the Canary Islands, well covered back and very comfortable, is also ideal to invite the couple to make love on special occasions

The shipping very fast in about 9 days I arrive at my address, the black color favors much, and the zipper adjusts very well

In summary I liked this model very much, I encourage you to continue in that routine

in the holidays in summer is for the aquapark in the Nort of spain and the winter holidays in the Canary Islands
Zip Down Baywatch One Piece

Sexy and modern
05/08/2017
I liked it very very comfortable, simple and fast purchase and the perfect size

Ideal for swimming pool for summer holidays and winter holidays in the Canary Islands, well covered back and very comfortable, is also ideal to invite the couple to make love on special occasions

The shipping very fast in about 9 days I arrive at my address, the black color favors much, and the zipper adjusts very well

In summary I liked this model very much, I encourage you to continue in that routine
Zip Down Baywatch One Piece

Fashion Summer
06/23/2017
Very good design, especially covers the back, especially since I have delicate skin in the sun, is also ideal for the man

The black color favors much, and very comfortable along with the perfect size

Shipping very fast I give them my congratulations. And apart from the ease of purchase and payment
Zip Down Baywatch One Piece

Fashion Summer
06/28/2017
Very good design, especially covers the back, especially since I have delicate skin in the sun, is also ideal for the man. The black color favors much, and very comfortable along with the perfect size. Shipping very fast I give them my congratulations. And apart from the ease of purchase and payment