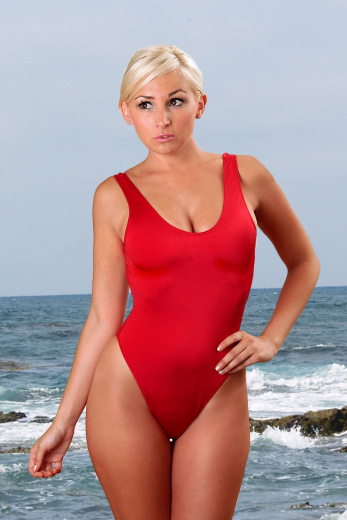 Hover your mouse over an image to zoom.

video
Brigitewear 2Scoops One Piece Swimsuit
(13)
Look like a Malibu lifeguard in your 2Scoops One Piece Swimsuit
This very sexy Baywatch* style bathing suit has deep plunges front and rear with high cut sides. The dips add a provocative sex appeal, while the high cut sides lengthen and flatter your legs and hips giving you that fit, athletic look. Get that famous Malibu lifeguard look in a bathing suit you will love for years to come. This suit has a full front lining.
New Long Torso available! For specifics on torso sizing look Here
Sizes 0-20
$59.95 for Red & Black
This is Brigitewear's most popular women's swimming suit of all time. The Baywatch Classic style 2Scoops one piece tank style bathing suit has retro styled high sided leg cutouts to lengthen the look of your legs. Front is fully lined.
New Long Torso available! If you have a longer torso or your body shape needs a little extra room, choose the Long Torso version. For specifics on torso sizing, you may look Here.
*Brigitewear International, LLC is not affiliated with Baywatch, or any affiliate thereof
Special Orders: Additional delivery time and/or an additional charge may be applied for special orders including 1X and 2X sizes.
Featured Reviews:
Thank You!
11/11/2013
I absolutely love the way my girlfriend looks in the 2 Scoops One-Piece bathing suits I bought from your website recently!! She was really pleased with them as well. The only thing she didn't like about it was that the bathing suit doesn't have much support for women with large, healthy breasts. Maybe installing a shelf-bra would be a good idea. I can't find this 1980's-style sexy one-piece at ANY other website. Why did such a classy, yet sexy, swimsuit go out of style? I wish your company would make the same item in a floral print, instead of only solid colors. Regardless, I am looking forward to doing business with you again soon!
Sexy and Confortable
12/06/2015
I am so glad this swimsuit, very comfortable and easy to wear it is ideal especially for ground water parks where to go in summer and winter

I've released in the winter holidays in the Canary Islands in the day Black Friday 25.11.2015 November week besides their color much favored him that day as he chose in black

It is ideal especially for water parks slides and although I am a man is very comfortable

high manufacturing quality with a very fast and efficient delivery, and also the ease of purchase from your store

I give the congratulations Brigitewear
I love this suit!
01/21/2021
I have this bathing suit in red and blue and I will definitely be getting more colors! I was searching for the perfect one-piece, and this is it! It is extremely flattering and high quality material (I've had them for about 3 seasons, there is no damage, or fading that I have noticed). I don't have much of a butt, and the cut of this bathing suit sits just right above my hips, and makes it look like I have more curves than I do. For reference, I am 5'6", 120 lbs, 34C, straight and narrow build, and I wear a medium. Thank you Brigitewear, love it!
Finally!
06/26/2016
I'm 5ft 7in but my torso measures super long at 63/64 inches, I'm a small bottom, and medium top. I ordered a L with an XL torso and I'm super happy with it. The reason for four stars, not 5, is because the back is not lined? And I do wish it had a little shelf bra in it for lift (it's still tight enough to keep everything in place) Other than that this is perfect, it's super sexy yet functional and secure enough to chase a 3 year old in. I'll buy several more.
Classic suit
03/16/2021
My only regret is not buying every color for my wife. This suit is the hallmark of women's swim wear. She can wear it to family pool parties and adult vacation. Stock up, I'm ordering more. Great fit and quality construction. And it gave my wife confidence and inspiration. She has a goal of getting down two sizes before I can order more. Even as a full-size woman she feels comfortable wearing it in public.
Very Nice Swimsuit
11/30/2016
I bought the bathing suit thinking that a small might be too big for my wife. She usually wears an XS size. Turned out that its perfect!! Fit her like a glove without looking like it was too small. At 5'6 110pounds,it definitely compliments her athletic build. I am definitely happy with this suit! She's ready to patrol any beach or our bedroom!
Perfect 10 suit for a perfect 10 lady
11/26/2016
I bought the bathing suit thinking that a small might be too big for my wife.She usually wears an XS size. Turned out that its perfect!! Fit her like a glove without looking like it was too small. At 5'6 110pounds,it definately compliments her athletic build.I am definately happy with this suit!Shes ready to patrol any beach or our bedroom!😀
Swimwear
03/12/2015
Bought this suit for my wife. Guys if your wife won't wear a two piece any more this is a great/sexy swim suit. I have bought her other suits and her complaint is certain body parts falling out the sides. this one fit great. HOT. I highly recommend it and will be buying it in different colors. FYI i bought the blue.
One Piece swimsuit
11/07/2022
Purchaed the Brigitewear 2Scoops One Piece Swimsuit Red Medium (4-6) - very happy with the fit and finish of the swimsuit, and fast shipment to the UK.
Satisfied
11/11/2013
Delivering: 5 stars Fit: 5 stars Styling: 5 stars I'm very satisfied with this Swimsuit
I love this suit!
06/30/2017
I absolutely love this swinsuit. Great quality. Great fit. Fast shipping. Im so happy!
Very Happy
11/11/2013
As described, very happy!
Tim Lynch
04/01/2016
Great