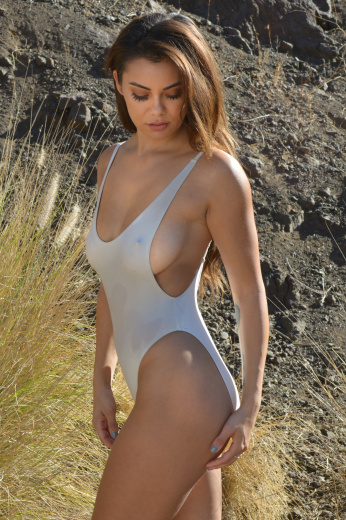 Hover your mouse over an image to zoom.

video
Side Boob Swimsuit
Side Boob Swimsuit
3
Average rating:

(3)
Side Boob One Piece
One of our more titillating designs, the Side Boob is offered in ultra soft Clay or Opaque Black with thong or Rio bottom options. As shown, the Clay becomes sheer and clingy when wet. The adjustable straps allow for a perfectly comfortable fit.
If you're looking for a truly feminine statement in a bathing suit, look no further than the Side Boob one piece by Brigitewear. Available in sizes 2-22, in black and clay
Special Orders: Additional delivery time and/or an additional charge may be applied for special orders including 1X and 2X sizes.
Featured Reviews:
Side Boob Swimsuit

Très bel article
02/20/2018
Confortable, très bien taillé, très belle allure et délais de livraisons très courts, que demander de plus? Points négatifs? Aucuns! J'ai une confiance totale dans les productions de ce site qui sont toujours de grandes qualités, on peut acheter les yeux fermés...
Side Boob Swimsuit

Side Boob
04/02/2018
Outstanding suit, looks great on!
Side Boob Swimsuit

Side Boob
01/04/2018
Outstanding!