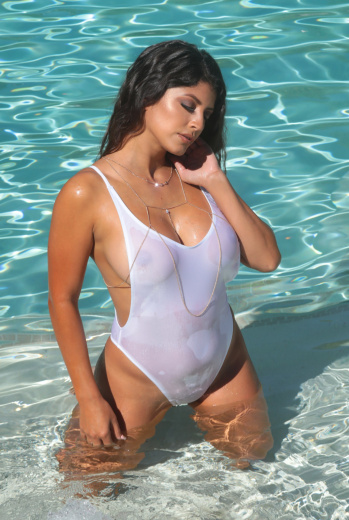 Hover your mouse over an image to zoom.

video
Side Boob Thong Swimsuit
(16)
Side Boob Swimsuit - Full Bottom Rio / Thong Open Side Boob Bikini - Brigitewear
The sexy side boob one-piece swimsuit, One of our more titillating swimsuit designs, the Side Boob Swimsuit is offered in ultra soft Sheer when wet white or ultra Sheer Velvet with camouflage pattern, available with a thong or Rio bottom option. Black is opaque and not sheer. The adjustable straps allow for a perfectly comfortable fit. Comes with crotch lining only. See more side boob swimsuit options below. See more open side bikinis & side boob swimsuit options below.
Note: Orders with Lining, Strapping or Color changes are custom made & are non-refundable, non-exchangeable. Allow up to 5 additional business days for production.
If you're looking for a truly feminine statement in a bathing suit, look no further than the Side Boob one piece by Brigitewear. Available in sizes 2-22, in black, white and clay
Special Orders: Additional delivery time and/or an additional charge may be applied for special orders including 1X and 2X sizes.
Featured Reviews:
Cant ask for anything more
12/08/2022
They say you can't have everything.Well with this one piece you can. Its see through when wet, and it shows plenty of side boob. What more can you ask. This one piece makes me feel very sexy. I am regular customer of brigitewear see through pieces. Wearing see through on beaches and pools makes me feel confident.But the sideboob in this takes my confidence to the next level. And its very very comfortable.
Tip: do justice to yourself and the one piece and please buy the white.Only the white will get most see through. Some like to keep little to imagination. I like to keep nothing to imagination. White is for ones like me. Go! Go! Go! Buy it fast, and become the confidence machine.
Sexiest suit ever!
07/01/2018
Fits beautifully. I had always bought the 2 Scoops but wanted something more revealing. I love the side boob! I bought it custom in pure white with no crotch lining. My husband has been driven to distraction and I love the ogling stares when I walk out of the water looking completely nude, then the looks of disappointment when it turns white again in a minute or so. This is my new favorite!
Great suit
06/21/2020
Love the sheerness, very comfortable to wear. I gave up on trying to keep nips from showing. Not for the bashful. I took out the lining and it left very little to the imagination when wet. Love the look and all the attention I got and made for a very romantic evening. I wear this in the privacy of my pool because it is so revealing.
Très bel article
02/20/2018
Confortable, très bien taillé, très belle allure et délais de livraisons très courts, que demander de plus? Points négatifs? Aucuns! J'ai une confiance totale dans les productions de ce site qui sont toujours de grandes qualités, on peut acheter les yeux fermés...
Side Boob
06/13/2019
Side boob is certainly appropriate name.
And, both side cheeks!

Sand color not as sheer as expected. Go with White is flaunting it all in water is what you want. Otherwise, does the trick while proclaiming to be in a one-piece!
Stunning
07/13/2021
Bought this swim for my 58yr wife stunning she wore it in Bali and the looks she got as was completely sheer no lining was incredible will buy another one very soon as this one is worn out
Sheer
09/06/2020
Bought the white side boob sheer white the wife loves it especially at the beach when wet nothing to hide
Exactly what I was looking for
03/13/2020
Just as expected and as described. I ordered in white in my normal size and everything was perfect.
Sexy & Beautiful
12/01/2021
This suit is so sexy! The fit is fantastic and it makes me feel beautiful even when soaking wet!
Very Sexy
06/08/2021
Got the camo. I only wear it at home in the pool but our friends always compliment me!
So very sexy
01/31/2023
Shows my tits and hairy pussy perfectly. I feel so confident and beautiful.
gorgeous one piece
08/15/2018
Bought this for my wife, looks great on her and she was happy to wear it.
Favorite
10/26/2018
My favorite from Brigitewear so far. Fits perfectly
Side Boob
04/02/2018
Outstanding suit, looks great on!
Side Boob Thong Swimsuit
09/24/2019
My wife loves it as much as I do!