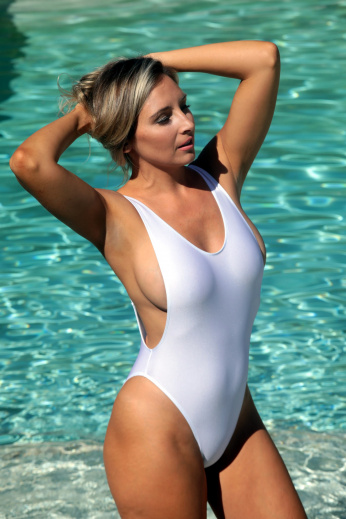 Hover your mouse over an image to zoom.

video
Side Boob Rio Swimsuit
(11)
Side Boob or Thong One Piece
One of our more titillating designs, the Side Boob is offered in Sheer when wet White with thong or Rio bottom options. The adjustable straps allow for a perfectly comfortable fit. Comes with crotch lining only. Velvet fabric is available in limited sizes.
Note: Orders with Lining, Strapping or Color changes are custom made & are non-refundable, non-exchangeable. Allow up to 5 additional business days for production.
If you're looking for a truly feminine statement in a bathing suit, look no further than the Side Boob one piece by Brigitewear. Available in sizes 2-22, in black and clay
Special Orders: Additional delivery time and/or an additional charge may be applied for special orders including 1X and 2X sizes.
Featured Reviews:
Amazing Side Boob Rio
12/29/2020
Bought this for my Wife for Christmas and had her Model it on for me! All I can say is WOW! My wife is Super Sexy anyway but this suit really Shows and Accents her Amazing Body. Can't wait for the weather to warm up a bit so she can really show this suit off! Thank God we live in Florida so I won't have to wait to long!
Great but disappointed
07/20/2023
I love the suit and my wife looks great in it. My wife is getting used to it but she's disappointed in the neckline. Instead of coming down in a scoop like the picture it goes straight across and as a result doesn't lay flat but gaps
Our response
We are always willing to make adjustments
Absolutely stunning
12/18/2018
I bought this design in Clay as a surprise for my wife. She loved it so much when it arrived, she asked me to go back and buy the Black. It fits beautifully and she looks amazing.
Certainly gets my blood flowing!
Looks Awesome!
08/12/2021
She says it is the most comfortable swimsuit she's ever had. She actually likes wearing it and I love seeing her in it. I doubt she will wear it in public, but who know?
Rio swim suit
08/17/2021
Beautiful sheer yet comfortable fabric. Leaves just enough to the imagination to make it wearable in public spaces as a mature 50 year old.
Love your stuff
WOW….WEE
07/14/2023
My wife is HOT and seeing her in her total white side boob unlined is totally sweet.
Suit fits perfect.
Keep up the great suits.
Side Boob Rio
08/18/2021
This suit fits perfectly and is very comfortable to wear. The fabric is beautiful. This is one of the sexiest suits i own.
Bikini
11/15/2021
Love the look very happy and the wife loves the look and feel of the material
Hot!
07/24/2020
My wife looks AMAZING in this!
awesome
06/28/2020
my wife looks amazing in them
Awesome
11/28/2020
Love it