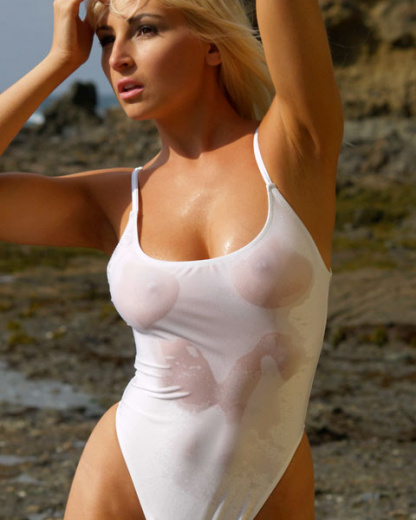 Hover your mouse over an image to zoom.

video
St. Tropez One Piece Thong Swimsuit
(37)
This is absolutely the sexiest sheer one piece thong swimsuit on the market! Just a hint of sheerness when dry, but more sheer when wet. The unlined top leaves less to the imagination when you exit the water (most notable in the lighter colors)! The cut on this one piece thong swimsuit will flatter any figure. The extremely high cut legs and thong back make the St. Tropez One Piece Thong swimsuit the most exciting one piece on the beach or by the pool. Flattering color selection, great style - for that sophisticated athletic look! Sizes 2-22. Comes with crotch lining only.
(Note, White only is totally sheer when wet, other colors are semi sheer)
For a custom color visit HERE- note that some fabrics may not be compatible with the design and we are happy to work with you.
Note: Orders with Lining, Strapping or Color changes are custom made & are non-refundable, non-exchangeable. Allow up to 5 additional business days for production.
Available in 6 different colors with differing degrees of transparency, the St. Tropez one piece thong swimsuit is one of our best sellers of all time. Brigitewear, Palm Springs, specializing in sheer swimwear and one piece thong swimsuits since 2001.
Special Orders: Additional delivery time and/or an additional charge may be applied for special orders including 1X and 2X sizes.
Featured Reviews:
Greetings
07/06/2016
I just wanted to write to say how pleased I am with your product!

When my wife's bathing suit first arrived, I was a bit skeptical. Out of the package it looked quite opaque. Same when she tried it on in the living room. I began to worry.

But then yesterday she wore it at our community pool. When she got out of the water WOW!!! It was as if she was wearing nothing more than wet tissue paper!! COMPLETELY SEE-THRU!! Much more transparent than the photos on your website. Needless to say, heads turned! Her fav color is blue and I almost went for the royal blue suit.....but now I thank my lucky stars I chose white.

Thanks so much!!
Awesome Suit
12/09/2019
Received suit exactly like pictured , ordered the royal blue, when it arrived she immediately tried it on..fit perfectly..love the cut and fit. Royal blue is only slightly sheer when wet , enough to be sexy and daring but not enough to be uncomfortable.the thong back gets all the attention and it's well deserved , frames the backside perfectly and she received many kudos and many many compliments.. She was the hit at the resort and many ladies inquired how they could acquire one since there husbands were mesmerized.... size runs true .
Sheer white
12/09/2020
This is the 4th suit this style that I have purchased .. red blue sea foam and now white .. this suit is incredible. Looks great dry but even better wet .. she got plenty of attention walking to the pool but .. wow ! Coming out of it , it was all eyes on deck Not for the shy or timid but definitely for the zip back in your relationship.. it was fun , playful , and adventurous... paired with red high heels I'm sure more than a couple of guys are still thinking about that suit ..
Oops
07/28/2015
Great bathing suit, I bought this for my wife. We went to a pretty secluded beach we know of where not many people pass by but within an hours time we were surrounded by men that had been passing by. The suit is marvelous I enjoyed it very much but if you have pendulous breasts like my wife it's very hard to keep them under the two straps but I and about 15 guys on the beach enjoyed her efforts to keep them strapped down to no avail.
White is very sheer
03/10/2023
Purchased the white for my wife. When dry, the swimsuit is still quite sheer up top, especially since my wife has dark nips. When wet, nothing is left to the imagination; everything is visible. We will be bringing it along with us for a short vacation in a few weeks to test her exhibitionism.

Definitely recommend ordering without the crotch lining. Also, the thong bottom makes her a$$ look fine as f**k.
Sexiest swimsuit ever
06/27/2020
Couldn't be happier with this purchase. Material is high quality, fit is true to size (and flattering), showed up within a couple days and might be the sexiest thing I've ever bought for my wife! The pictures are very accurate for the look when wet. I highly recommend this suit, and I will be a returning customer.
Sheer White
12/10/2020
Very comfortable and well made. The material is very soft and does not rub or chaff like some suits. I got the yellow and it is semi sheer when wet. When dry, its not sheer at all which works well. Fits true to size. Great for around the pool when you want some extra sun. Very flattering cut and style.
Great value for price paid
06/16/2020
Excellent fit and style. The thong portion really enhances her backside. The sea foam color was very attractive and provided a fresh look. The lighter colors are see through and good for home spa use while the darker colors are not see through and are great for the beach or other outside activities.
Very sexy, fits perfect
07/27/2021
This was a gift for an Anniversary trip to the lake. It is beautiful! It fits perfectly and as advertised, very sheer when wet :-) The only issue is that the straps don't want to stay up on my shoulders. I feel that for this for curvy is is very flattering and comfortable.
A total turn on
09/16/2016
The quality of both suits are spot on. They not only fit great but look totally awesome wet or dry. Bought them as a surprise for my wife, sizing was very accurate.
Delivery was quicker than I expected. All in all great service, great quality, and a look to die for.

WOW
12/12/2017
I bought this for my wife as a surprise to go on our 5th honeymoon. She is smoking hot in this suit. Have bought from Brigite wear before. Will buy more suits like this one again. Nice fabric Really like red. Really seethru when wet.
size not fit
04/25/2016
Size M but why it is different with two others?it is bigger than other products with same size M.or maybe because the boobs or because my wife asian?bubbles and breezy one piece swimsuit size M are fit for my wife.but this is not fit.
Perfect
07/05/2020
Ordered the sea Foam for my wife, wow it's super sexy. We love it, about to order the Lime Green. Shes a size 2X so it's always been hard to find a sexy swimsuit that fits. This one is perfect.


Love this swimsuit
10/02/2021
I am a curvy girl and decided I was going all out for my trip to Punta Cana. This swimsuit delivered! It was sexy and flattering. The color was amazing. I definitely will order from this site again.
Great swimsuit
07/15/2020
Fits my wife perfectly. Everytime she wears it i can't help myself. Cant keep my hands off of her! Her ass looks amazing in it! Needless to say once she puts it on it doesnt stay on long!