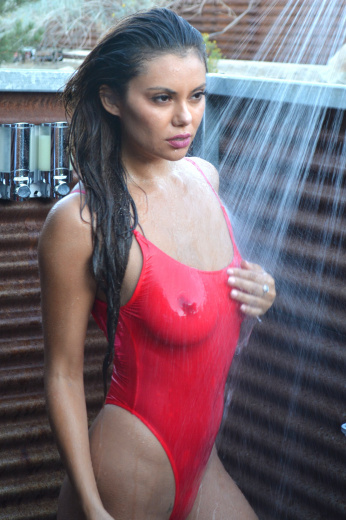 Hover your mouse over an image to zoom.

video
St. Tropez One Piece Thong Swimsuit
St. Tropez One Piece Thong Swimsuit
16
Average rating:

(16)
This simple but sexy design offers a great deal of stretch. With a crotch lining only, the lighter colors will show more transparency when wet, where the darker colors such as the royal and black will not.
Available in 6 different colors with differing degrees of transparency, the St. Tropez one piece thong swimsuit is one of our best sellers of all time.
Special Orders: Additional delivery time and/or an additional charge may be applied for special orders including 1X and 2X sizes.
Featured Reviews:
St. Tropez One Piece Thong Swimsuit

Greetings
07/06/2016
I just wanted to write to say how pleased I am with your product!

When my wife's bathing suit first arrived, I was a bit skeptical. Out of the package it looked quite opaque. Same when she tried it on in the living room. I began to worry.

But then yesterday she wore it at our community pool. When she got out of the water WOW!!! It was as if she was wearing nothing more than wet tissue paper!! COMPLETELY SEE-THRU!! Much more transparent than the photos on your website. Needless to say, heads turned! Her fav color is blue and I almost went for the royal blue suit.....but now I thank my lucky stars I chose white.

Thanks so much!!
St. Tropez One Piece Thong Swimsuit

Oops
07/28/2015
Great bathing suit, I bought this for my wife. We went to a pretty secluded beach we know of where not many people pass by but within an hours time we were surrounded by men that had been passing by. The suit is marvelous I enjoyed it very much but if you have pendulous breasts like my wife it's very hard to keep them under the two straps but I and about 15 guys on the beach enjoyed her efforts to keep them strapped down to no avail.
St. Tropez One Piece Thong Swimsuit

A total turn on
09/16/2016
The quality of both suits are spot on. They not only fit great but look totally awesome wet or dry. Bought them as a surprise for my wife, sizing was very accurate.
Delivery was quicker than I expected. All in all great service, great quality, and a look to die for.

St. Tropez One Piece Thong Swimsuit

WOW
12/12/2017
I bought this for my wife as a surprise to go on our 5th honeymoon. She is smoking hot in this suit. Have bought from Brigite wear before. Will buy more suits like this one again. Nice fabric Really like red. Really seethru when wet.
St. Tropez One Piece Thong Swimsuit

size not fit
04/25/2016
Size M but why it is different with two others?it is bigger than other products with same size M.or maybe because the boobs or because my wife asian?bubbles and breezy one piece swimsuit size M are fit for my wife.but this is not fit.