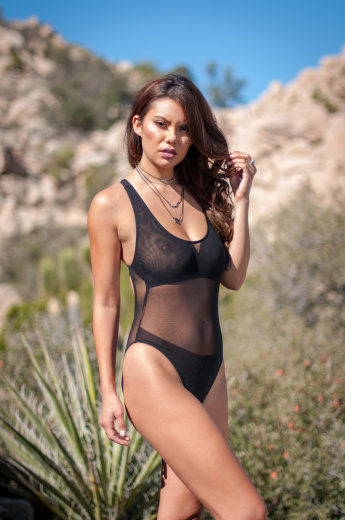 Hover your mouse over an image to zoom.

video
Cross Back Mesh One Piece
Cross Back Mesh One Piece
6
(6)
Cross Back Sheer One Piece
Action Suit!
Designed for action, this suit has a built in mesh bra for support and adjustable back straps for the ideal fit. Unlined Rio bottom back can be worn either "cheeky" or "full". All this combined with variable levels of transparency based on fabric choice.
Bikini style mesh lining in front, sheer in back. in sizes 2-22 from
Special Orders: Additional delivery time and/or an additional charge may be applied for special orders including 1X and 2X sizes.
Featured Reviews:
Cross Back Mesh One Piece
Absolutely soft, durable and so sexy!
03/26/2020
: Loved my three suits and t shirt! I am a plus size and am really tired of stuffing my body in layers of fabric! These sheer suits were so comfortable! Also, I swam quite a bit and lived in these suits my entire beach resort stay! They were very durable! I was surprised! Oh and they drove my husband crazy!! I will purchase more for my next getaway for sure!
Cross Back Mesh One Piece
Sexy Swimsuit
04/27/2018
I brought this swimsuit for my girlfriend for a vacation trip and I loved it on her. Swimsuit fit nicely in all the right place and the sheerness makes it absolutely sexy. Will continue to buy from you guys keep making amazing swimsuits
Cross Back Mesh One Piece
Very Satisfied Customer
12/04/2018
Very satisfied with my purchase, Brigitewear was very fast in there shipping, item arrived with in days of ordering. Very satisfied with my purchase
Cross Back Mesh One Piece
Great suit
01/21/2018
Looks great and fit perfect
Cross Back Mesh One Piece
Purchase
03/18/2020
Loved my products ❤️
Cross Back Mesh One Piece
Wife loves it
02/26/2018
Wife loves it