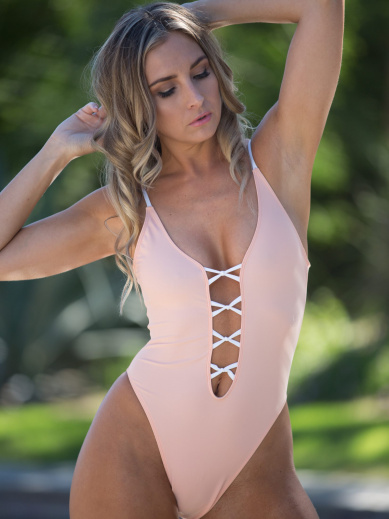 Hover your mouse over an image to zoom.

video
Palm Springs Plunge Thong
(5)
Offered with a thong or Rio bottom, our Palm Springs Plunge bathing suit is available in 2 spectacular fabrics. The melon - sheer on top when wet, and Blue Butterfly - lightweight and semi opaque when wet.
Sheer transparent swimsuit more sheer available in two colors this one piece thong bathing suit is very sexy. In sizes 2-22 buy this swimwear made in California by Brigitewear, Palm Springs
Special Orders: Additional delivery time and/or an additional charge may be applied for special orders including 1X and 2X sizes.
Featured Reviews:
Best Fit Ever
09/02/2021
We ordered the Rio version in Blue Butterfly, wanting a suit that could be worn anywhere without fear of offending the parents of little kids, and this one is PERFECT.

In spite of the wife being long-waisted, I ordered this one true to size having not been entirely satisfied after having ordered the Ringed Side Boob Rio a size large to accommodate the length and having the rest of the suit fit a little loose. True to size, this one fit great!

The fabric is very light weight and looks like it should be sheer or see-through when held up, but when worn is completely opaque, even when wet. The front plunge goes all the way down to her belly-button and shows some nice cleavage but in all respects is respectable.

She wore it in some pretty rough waves and it stayed in place nicely, with nothing slipping out (unfortunately) but this just shows that this good-looking, great-fitting suit can be worn anywhere.

I was going to order one in melon, but her size is now sold out.
Palm Springs Plunge Thong
07/23/2019
Purchased this suit for my wife, it was our first suit from Brigitewear, we ordered a medium and it fit perfectly, not to tight and the material felt very comfortable, it is a stunning suit which when dry doesn't reveal to much but looks amazing when wet, it also dries quickly, we will definitely be ordering another one soon
Magnifique
11/01/2017
Bonjour. Cet article est réellement très joli, il va très bien à mon épouse qui est enchantée et la taille est parfaite. Le délais d'une semaine environ est magique. Bravo à toute l'équipe et l'organisation du travail. Je reviendrai comme disait le général Mac Arthur ;-)
Wife Loved her gift
11/01/2017
She said it fit perfectly, the colors were right on, and the suit is extremely light weight meaning perfect to pack for a weekend getaway and it dries quickly. She can wear it with white or black jeans or shorts.
Excellent
07/10/2018
We have purchased several items here. They are always top notch. Well made. Exactly as advertised. Could not be more happy with the service. Start to finish. We would recommend Brigitewear to anyone, anytime!
Fantastic Fit
07/01/2019
Wife LOVED this product. It arrived promptly, fit extremely well and is of high quality. We'll be purchasing from you in th future!