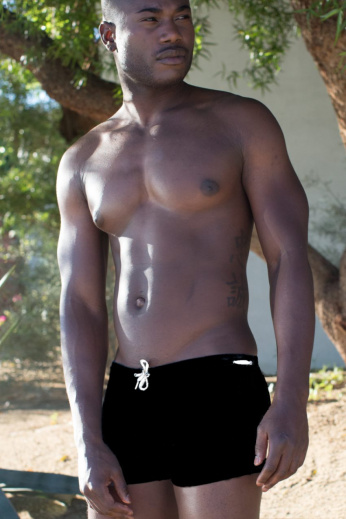 Hover your mouse over an image to zoom.

video
Square Cut Shorts
(14)
Men's Square Cut Swim Shorts
Classic Streamlined Styling
Low rise, adjustable drawstring
Seamless back
Unlined
Sheer When Wet Frosted White, along with less sheer, Red, Sea Foam, Silver, Titanium, Black & Turquoise
Sizes S - XXL
These hot shorts hold you in tight for high energy activities. These shorts accentuate all the right places. You'll love the freedom you feel. Designed exclusively by Brigitewear.
*Grommet color may vary from photos.
Special Orders: Additional delivery time and/or an additional charge may be applied for special orders including 1X and 2X sizes.
Featured Reviews:
My Wife Likes It - A Lot!
12/27/2019
I must admit that I bought a pair of these because my wife wanted me to "look sexy" instead of looking "like a dad". I've been purchasing several very sexy Brigitewear swimsuits for her since I found this brand and I figured that it was finally time for me to make her day! She certainly does mine whenever she wears a Brigitewear bikini or one piece.

So I figured that I could wear them around the house and in our private swimming pool and she would be happy.

These have made her really happy and I have been the beneficiary of her happiness!

I even worn these to our local private beach and went into the water - but more importantly came out of the water - when no one else but my wife was around to see.

I have the unlined turquoise color and they "show" enough when wet to make my wife's heart race... I may purchase the unlined white ones for when we go to our home in the islands or visit one of the resorts in Jamaica, DR, Mexico, Virgin Islands, or elsewhere.

They fit and feel good!
Great trunks
06/25/2019
I generally wear 33-34" waist in shorts and jeans. I ordered the Seafoam large size and the color and fit is just right. These are great swim trunks for your private pool or out on the boat. I would caution against wearing them in public as they do show more of your junk than most people probably want to see. They dry fast and are much more comfortable and up-to-date looking than a Speedo.

I would have rated them 5 stars, but didn't because they are a little looser fitting than I would have preferred. That said, I ordered a pair in white and decided to try the medium. These fit tighter and are perfect, especially when wet. However, the draw string is way to short and it should have been in a contrasting color (black or blue). My wife doesn't like the white because she thinks it looks like I'm wearing underwear. The contrasting draw string would make them look better.
Great Looking, even on an 'Old Guy'
03/17/2023
We ordered these Square Cut Shorts for me, at the some time that we ordered my Wife's Jaguar Halter Top and Black Cheeky High Waist Bottoms.

I have already given both of my Wife's two bikini items above, separate 5 Star reviews, on their respective listing. Both my Wife and I Love the way that they fit me so well! They are comfortable, fit well, quick drying, and give a nice amount of 'package advertising' w/o being fully sheer.
Thanks for some very well made, quality products!!

Note, I ordered my normal size large, but if I had wanted to make my 'package' more evident, I could have gone for the medium size instead.

After we had received and had worn the above items, we found two more sheer bikini tops for my Wife, which I soon ordered them for her.
Sexy but not Racy
02/13/2022
I originally only got one pair because I was afraid that might be too skimpy or clingy. I have now purchased a few pairs and these are my suit of choice for the public pool. They are definitely sexy as hell, and my wife really likes them. However, unlike the sheer thong, you can wear it in a family setting as it isn't "in your face". They fit well, are roomy enough in the front, and look very stylish. Great colors too! You will definitely get positive looks and compliments in these!
Square cut shorts
08/12/2021
Review contents: The men's square cut shorts in frosted white are great. The fit is perfect i went for small (keeps everything in place). Slightly revealing when dry, yet when wet, well let's just say girlfriend couldn't believe her eyes. Neither could the other women near us on the beach lots of positive comments and wanting to know where i got them. Girlfriend wants to get a suit now, unlined of course.
Great product highly recommend.
Returning Customer
08/03/2021
We had purchased some bikini's from Brigitewear a few years ago, but the styles and colors were just ok for us. However, for this most recent purchase, there was a sale, and we thought about trying some new fits and colors. We are very pleased to say the least. The mens shorts are amazing, fit very well, are super sexy, and we love the color.
Great suit
09/05/2022
The company that made the square cut suits I have been wearing closed up a couple of years back. I've been looking at the suit since then but only recently purchased it. Great material and extremely comfortable. Will be purchasing another one soon for our trip to Mexico in a couple of months.
Wife loves
04/18/2021
Bought the medium size Sea Foam shorts and wear them to the beach in Mexico. The wife loves the way the way they look and loves the way other women smile at me ....
Perfect
04/21/2021
Already own two other pairs of men's square cut shorts, really like them a lot! Perfect fitting, and always the same reaction from my wife when I wear them :-).
Men's square suit
06/13/2019
Nice fit for a bigger, older dude than the models on site.
Turquoise not as sheer as expected, but still did what lady friend wanted.
Great Fit
05/19/2020
I ordered a Large and it fits exactly as advertised (size 34 waist). Great soft high quality material.
Love them on my husband.
09/09/2018
Love them. Wish you had more colors and unknown. Loves showing off my husband. And he rocks them
Very sexy
06/13/2020
Makes me feel young again. Super comfortable!!!
Men's square shorts
07/20/2021
Good fit. And very comfortable