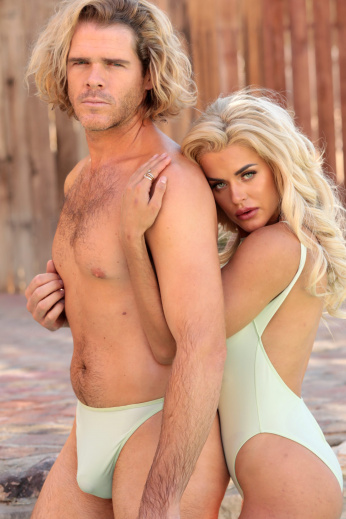 Hover your mouse over an image to zoom.

video
Sheer Azur Men's thong swimsuit
(10)
Very sexy European styling designed exclusively by Brigitewear for the adventurous man. The Sheer When Wet Azur classic men's thong swimsuit provides ample room in front like our lined Azur men's thong. Opaque when dry but get it wet and watch out! This men's thong bathing suit becomes very sheer when wet and is not for the faint hearted or shy. Whether by the pool, beach or in private, you are sure to be noticed. Available in white, kiwi, neon yellow, velvet, crimson and black.
Seductively suggestive and subtly sheer when wet
Special Orders: Additional delivery time and/or an additional charge may be applied for special orders including 1X and 2X sizes.
Featured Reviews:
Like it a lot
12/10/2020
Very comfortable and well made. The material is very soft and doesn't rub or chaff like some suits. I got the yellow and it's semi sheer when wet. When dry, it's not sheer at all which works well. Fits true to size. Great for around the pool when you want some extra sun. Very flattering cut and style.
white thong
11/13/2015
Turns my wife on every time i wear this to match her. Love the way the fabric feels and the way it looks when wet. Love to watch her eyes light up when she discovers i am wearing it.
Clay Azur thong swimsuit
01/05/2018
The clay sheer Azur thong is a great color and sexy suit. It was a hit at a pool party in Miami yesterday. Very comfortable and very sheer and defining when wet.
Feeling Younger
09/16/2016
Not the type of suit I would normally buy much less wear but with our own pool in a somewhat secluded area it's fun to wear. quality and service were unbeatable.
Sheer azur men's thong
01/10/2022
Happy with post , parcel arrived in no time. Very Shere when wet,
I didn't think they are Nealy transperent, happy with order will buy again
Comfy sexy
12/16/2016
These are "forget-they-are-on" comfortable and "they-may-not-be-on-for-long" sexy. Not for the neighborhood pool or family-friendly beach.

Very Sensual
06/11/2021
This thong is as sensual as thongs should be-just holding my sex enough then showing my package and how I feel about myself.
Sheer Azur Men's thong
12/05/2013
Arrived on time, good fit and feel. Great product.
nice fit
08/25/2021
Light, comfortable, and very attractive
Sheer Azur mens thong
05/13/2014
Just as the pic shows. Nice product