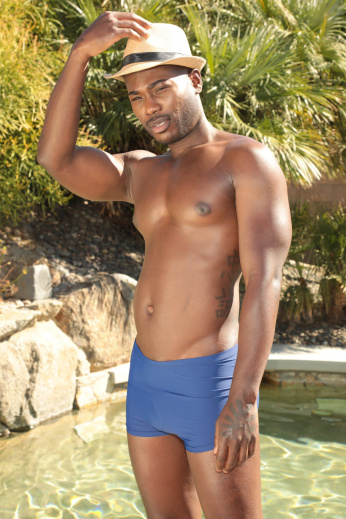 Hover your mouse over an image to zoom.

video
Low Cut Men's Shorts
(4)
Low Cut Men's Swim Shorts
Low cut styling designed for the confident man. With elastic waistband and 3 fabrics, there's one for you! Our sky blue knit is super soft and clingy, even more so when wet. The masculine Dark Navy is a durable heavier fabric while the jade print is ultra light weight, with the print making the suit more discreet.
Low Cut Men's swimsuit exclusively by Brigitewear. Sexy minimalist design available in a variety of colors the pinnacle of men's fashion for the pool or beach.
Special Orders: Additional delivery time and/or an additional charge may be applied for special orders including 1X and 2X sizes.
Featured Reviews:
Very lite
09/12/2019
Husband loved the suit says it feels like he has nothing on. He swims everyday and it has worn thin in less than a season. Maybe more of a show your stuff play suit. But I still think Brigitewear is a good company and I think my see thru bikini is a kick to wear.
Great fit!
06/09/2022
These trunks are great, fit very well, great quality materials. The fabric is wonderfully soft, and the navy color is beautifully rich. Thanks Brigitewear!
Great Addition
04/15/2020
Bought the new dark navy which are a great colour. Fit and style perfect. Delivery very impressive considering current conditions so well done all. Thanks
Great service
04/19/2021
Great product and great service!