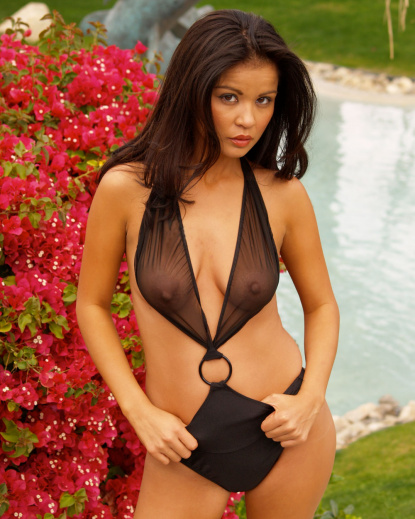 Hover your mouse over an image to zoom.

video
Brigite Convertible Topless One Piece
(3)
Top on - Top off - Your Choice
It's summer, you want to take the top down and enjoy the day. Well, it's not just for cars anymore. Brigite is excited to introduce the Brigite Convertible one piece topless swimsuit. This unique bathing suit is designed as a convertible. Adjust the top to the center for a great topless suit perfect for tanning. Readjust the top for complete coverage and go from beach or pool to the bar, restaurant or party with ease, or wear just the bottom only and add the top when more modesty is desired. Seven tops make the options vast.
$67.90 for complete suit - top & bottom!
A truly versatile swimsuit, wear it with the top up or down! All interchangeable scarves are elastic edged and cut to provide additional width in the bust area.
Special Orders: Additional delivery time and/or an additional charge may be applied for special orders including 1X and 2X sizes.
Featured Reviews:
Stunning
10/19/2017
I had the convertible converted over to the predecessor (St. Moritz) in white and it is stunning. My wife wears it with both the blue and orange sheer tee's and it looks gorgeous. Extremely fast shipping and customer service couldn't have been any better I don't see any cons and
I highly recommend Brigitte wear.
Topless Swimsuit
05/01/2014
What a great idea. My girlfriend loves it. She wears it like a regular suit on the beach, and when we're alone she lowers the top and ties it around her waist. Hot, hot, hot! Keep up the innovation!
Nice Top
10/19/2017
Nice top. Right fit. Perfect tease