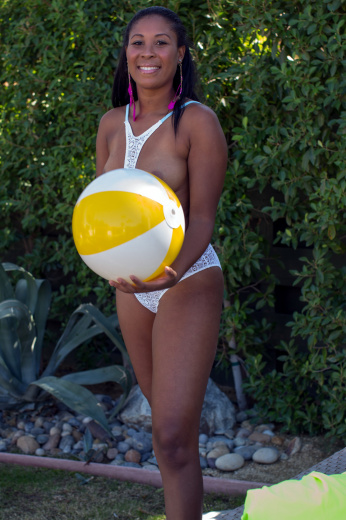 Hover your mouse over an image to zoom.

video
Sizzling Crochet Topless
(3)
Sizzling Crochet White Topless women's bathing suit.
Minimal unlined cheeky rio bottom
High cut legs
Lined front crotch panel
Sheer crochet style material
Sizzling Crochet Topless Swimsuit one piece by Brigitewear -Live Free to B
Take the plunge. You only live once: Crochet Topless Swimsuit one piece by Brigitewear. A terrific sexy swimsuit to wear in private, on those special occasions with your significant other, on the Riviera or anywhere you're comfortable. An extremely flattering suit, the see through high panel front covers the tummy while the intriguing sheer swimsuit back, with crotch lining in front and unlined in back, makes this one of the most exciting suits that you will own.
Special Orders: Additional delivery time and/or an additional charge may be applied for special orders including 1X and 2X sizes.
Featured Reviews:
Wowsers!
01/25/2021
Bought this for my spouse. She looks fantastic in it! Very pleased. She intends to wear this on our private deck even when friends are over, and on our pontoon boat when out on the lake. My best friend and his wife thought it looked hot on her, and his wife is buying one now.
Terrificly Sexy
06/28/2017
We frequent beaches of the European type regularly and this is as provocative as it gets, absolutely love it and the looks we get
AWSOME
06/25/2018
Fits and Looks FABULOUS!