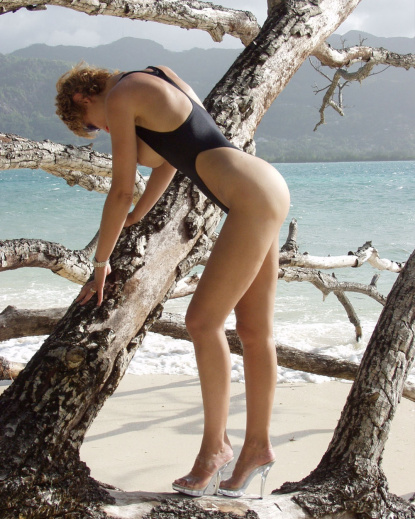 Hover your mouse over an image to zoom.

video
Versailles Topless Thong One Piece
(15)
Hottest style in women's swimwear
Versailles women's topless thong swimsuit, the ultimate in coture high fashion designer swimwear
A great suit for the Riviera or anywhere topless sunbathing is allowed. It also pairs well with a bandeau top. An extremely flattering suit, the "suspender" straps enhance the bust line and increase cleavage. The high panel front aids in flattening the tummy while the deep plunging front and exciting thong swimsuit bottom make this the most tantalizing suit that you will own.
Topless swimsuits were voted "sexiest" of all swimwear designs in Brigite's latest customer survey. Take the plunge. You only live once.
Versailles Topless Swimsuit one piece thong by Brigitewear, French designer exotic topless swimwear - for the confident, modern women.
Special Orders: Additional delivery time and/or an additional charge may be applied for special orders including 1X and 2X sizes.
Featured Reviews:
Inspiring
11/11/2013
Excellent quality and the cut shapes and accentuates a woman's lines like no other. I cannot recommend this suit enough to inspire your partner. One of my all time favorite suits! Be sure to plan to make an entrance wearing heels and perhaps a sun hat if in the daytime, while your partner waits for you in the jacuzzi. Makes a great impression for either a private engagement or a topless resort, or even make a statement while entertaining in your jacuzzi another progressive couple.
Sexy and Modern
11/11/2013
this is one of the most modern and sexy swimwear, I have found, in addition to comfortable for psicina or the beach, especially for trips to the latter I encourage you to continue in this line of design, especially in the series of suits one piece bathing topless This model is also ideal to come out as the Santa Lucia model type Rio from behind also ideal for intimate occasions surprise in couple, thanks for your store and catalog
Sexy, seductor y fashion
06/15/2015
Sexy, seductive and fashion is one of the most attractive swimsuits, plus sexy, seductive and elegant ahead very comfortable and attractive and very seductive, from behind Thong has a sporty type, behind the flattering back on special occasions it is ideal to invite to make love with your partner I miss just size 2X, but otherwise is excellent
Versailles - not only for women
11/30/2014
Versailles is also suitable for men! As written before - excellent quality and a wonderfull correct fit. I enjoy to have a partner look with my girl friend. And, we also enjoy to present us in this suits in private parties - or on beaches in France and Spain.
sexy, seductive, comfortable and modern
06/14/2015
is the swinsuit the sexiest and modern I have purchased comfortable, sexy and surprising especially sexy type topless in front and behind seductive thong type ideal for the beach and pool, and we intimate moments for partner congratulations!!!
Versailles Topless Swimsuit
11/11/2013
Great suit, very comfortable and the perfect item for a romantic getaway of lounging in the comfort of my backyard with my significant other. Very flattering and exciting, commands a lot of attention!
a horny siut...
10/30/2014
Versailles - a wonderful topless thong! Excennt quality. I like to waer 'Versalles', and my husband gets crazy, whne I present my pierced nipples and my blanket butt, especially when I was caned....
Stunning
09/19/2018
We have bought a bunch of suits from Brigite. This one is the favorite. Sexy and very flattering. As always very well made. Fast service. She gets lots of attention in it.
Wow!
01/10/2019
Perfect for the pool at home but can't wait to show it off at a "legal" public beach here in Florida. Excellent quality as always from Brigite! Five stars as usual.
Mr
10/11/2023
I love this swimsuit it feels great out in the sun with my hose on I feel like myself when wearing this suit.
Topless Treasure
11/09/2017
Both of us love it. Wished we would have found this years ago! Will get another. Great for backyard fun
Nice Suit
09/20/2014
Looks Great, husband loves the way it looks on me and shows my assets . Fits nice. Sally
Topless thong one piece
08/24/2019
Looks fantastic on my lady! She mentioned the fit is perfect.
amazing
03/12/2017
i love every inch of the model and what isn't there
Very nice
03/18/2021
Sexy as Hell!