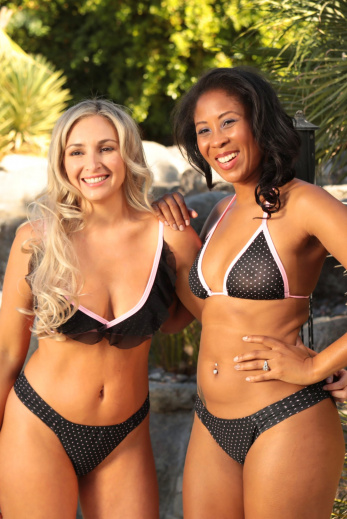 Hover your mouse over an image to zoom.

video
Polka Dot Bikini Triangle Top
(1)
Subtly Sheer Polka Dot Bikini
Two Spectacular tops are offered for a wide range of choices. Subtly Sheer Ruffled Wrap Around and Triangle Top can be paired with the matching Ruched Side Thong or Rio Bottoms, or any of our Black Bikini Bottoms. Ruched Bottoms come with front black mesh lining. Two great matching Sheer Tops and Sarongs complete your ensemble!
The tighter fit creates more transparency for the top!
Add a sarong or cover-up and have an outfit for the day! Now you may order the bottom only for a great topless suit at a terrific price!
In sizes 0-22
Special Orders: Additional delivery time and/or an additional charge may be applied for special orders including 1X and 2X sizes.
Featured Reviews:
love it.
12/03/2021
beautiful feels great while wearing it.