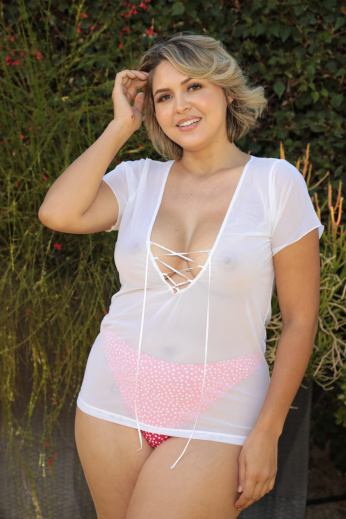 Hover your mouse over an image to zoom.

video
Long Lace Up T Shirt
(1)
The Long Lace Up Sheer T Top - The ultimate in sexiness, this lightweight T top compliments swim bottoms, shorts & jeans. Wear it over the a bikini top or alone.
In sizes Small - 2X. Special thanks to our models Tashia McIntosh, Macy Chanel & Kaila
Special Orders: Additional delivery time and/or an additional charge may be applied for special orders including 1X and 2X sizes.
Featured Reviews:
Perfect cover up to see all!
04/28/2022
Ordered the top as a cover up for walking and had the lining removed from bottoms to have a clear view. My wife not knowing my plans sent me pics with see through cover up with no top under it and no lining bottoms and wow!! Worth every penny. Can't wait to get home from work and hit the pool with her. Fit is great and love the sheer material. Not sure how long I can look and not take it off of her. Purchase shipping and packaging was easy and fast. Very satisfied!!
Perfect
02/23/2021
My wife loves this top, it's her 3rd one. She wears them at the beach here in Texas and gets a lot of attention. She got a ton of compliments on the boob cruise in Cancun!
Long lace up T
04/07/2021
Great buy, bought it for my wife, she loves it and I can't keep my hands of her when she's wearing it. Amazing what such a small amount of fabric can do...
Awesome Shirt
12/10/2020
Love this piece of clothing. My husband thinks its sexy!! Wonderful fit!