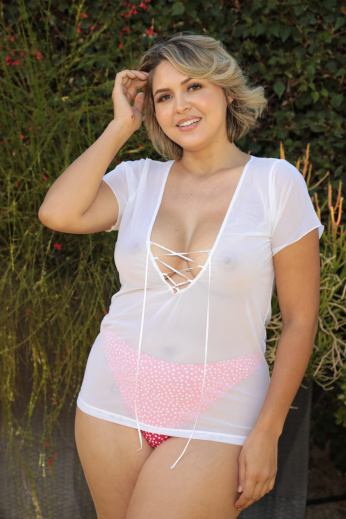 Hover your mouse over an image to zoom.

video
Long Lace Up T Shirt
(1)
The Long Lace Up Sheer T Top - The ultimate in sexiness, this lightweight T top compliments swim bottoms, shorts & jeans. Wear it over the a bikini top or alone.
In sizes Small - 2X. Special thanks to our models Tashia McIntosh, Macy Chanel & Kaila
Special Orders: Additional delivery time and/or an additional charge may be applied for special orders including 1X and 2X sizes.
Featured Reviews:
Perfect
02/23/2021
My wife loves this top, it's her 3rd one. She wears them at the beach here in Texas and gets a lot of attention. She got a ton of compliments on the boob cruise in Cancun!
Long lace up T
04/07/2021
Great buy, bought it for my wife, she loves it and I can't keep my hands of her when she's wearing it. Amazing what such a small amount of fabric can do...
Awesome Shirt
12/10/2020
Love this piece of clothing. My husband thinks its sexy!! Wonderful fit!