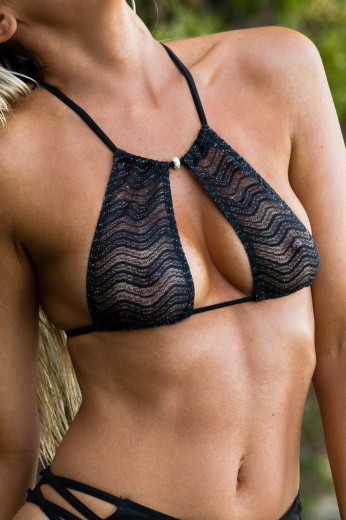 Hover your mouse over an image to zoom.

video
Wavy Mesh Keyhole Top
(3)
Wavy Mesh Keyhole Top – This trending sheer style offers adjustable neck and chest straps. The cross strap across the back relieves neck discomfort. Luxurious soft black & silver mesh fabric, this bikini top is enhanced with a sparkling silver tone bead at the neckline. Sexy Side Cross Bottoms are available in Thong or Rio Styles. In sizes S-2X Several other tops and options are available, see below:
Two other great tops are also offered. The Two Tone High Neck Top is velvety soft stretchy clay fabric combined with the black silver wavy mesh for the ultimate in fashion swimwear. Snug fitting front with over the shoulder design really holds you in. Adjustable tie back for perfect fit. Clay becomes very "clingy" when wet. The Wavy Mesh Triangle Top – Simple and seductive. Although this top is sheer, the wavy patterned mesh provides only a "peek a boo" view, leaving a little to the imagination. Silver thread embellishments in this fabric create that extra sparkle in the sun. Coordinated options include the Wavy Mesh Skirt – This luxurious long sheer skirt with a side tie, goes from poolside to evening with ease. The patterned mesh fabric has silver thread embellishments which gives it that extra sparkle and elegance. Very leg revealing tie side, extremely seductive. Another great option is the Flowy Crop Top – Supportive and sexy! This "peek a boo" lined top has unlimited versatility. With a black mesh shelf bra for support, it can be worn in the pool with a bikini bottom, or out on the town with pants or skirt. Sheer black patterned mesh with shining silver thread embellishments throughout.
Special Orders: Additional delivery time and/or an additional charge may be applied for special orders including 1X and 2X sizes.
Featured Reviews:
Just Wow
05/04/2021
I cannot rave enough about this Bikini! It has just the right amount of sheerness, is sexy as all get out, and really brings about the desire for which I am sure it was made. I paired it with a couple of different coordinating bottoms, one thong and one Rio. My wife looks so hot in it. She was hesitant at first but we were on a rather secluded beach, and the positive comments she got about it, many from women, gave her enough confidence to wear it to our next stop, a very crowded beach, and then to the hotel pool. It has helped spark a rekindled romance, long over due. She has asked me to surprise her with more. She needn't ask twice!
Classy and Sexy
08/26/2020
Took a chance on this suit for my wife and was shocked at how much she liked it. The side cross bottom makes her already long legs seem even longer. The triangle top is medium sheer and looks very classy. Of course now she wants more suits from Brigitewear!
Let Me Catch My Breath
02/23/2021
My wife loves this and it looks great on her. Went with friends down South and she was the center of attention out on the deck. The guys kept engaging her in conversation.