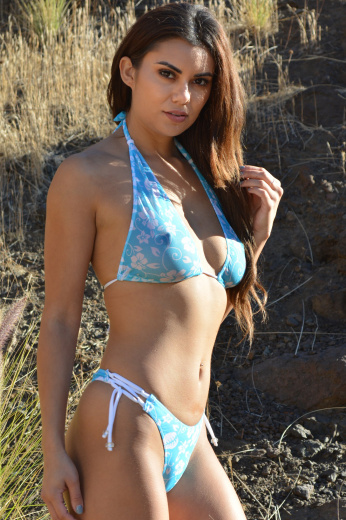 Hover your mouse over an image to zoom.

video
Mesh Hibiscus Bikini
(2)
Mesh Hibiscus Bikini Lightweight & sheer, this mesh print provides just enough "camouflage" to wear on any beach. Popular Halter or Bralette top and Rio or Thong bottom design options.
The Bralette top crosses behind the back to relieve neck pressure and ties you in securely. Adjustable tie side bottoms are embellished with European Glass Beads that dazzle. in sizes 2-16.  $32.95 each piece
Special Orders: Additional delivery time and/or an additional charge may be applied for special orders including 1X and 2X sizes.
Featured Reviews:
Pleased with this suit.
09/13/2019
Arrived on time. Fit well . Was the perfect amount of see through. Was pretty comfortable too. If I could have I would have gone a half size smaller.
Very Nice!
06/13/2021
My wife really likes this entire bathing suit