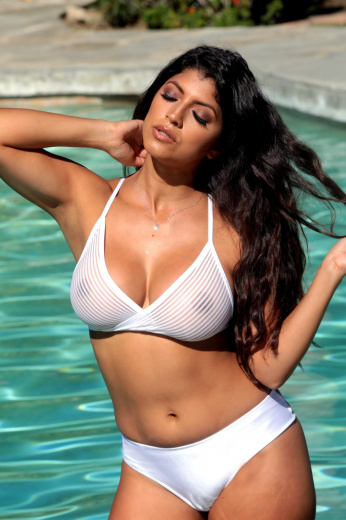 Hover your mouse over an image to zoom.

video
HeartBreaker Bikini
HeartBreaker Bikini
1
Average rating:

(1)
The HeartBreaker Bikini
Very supportive and sexy, you'll break some hearts in this thrilling suit. Available in 3 colors and fabrics. The soft and stretchy Sky Blue clings to every curve. The sensationally sheer White Stripe Top and semi-sheer Blue Shimmer pair with a variety of Brigitewear bottoms.
most in sizes S -1X
Special Orders: Additional delivery time and/or an additional charge may be applied for special orders including 1X and 2X sizes.
Featured Reviews:
HeartBreaker Bikini

Perfect fit and timing
02/25/2019
Like to say that the heartbreaker is the perfect suit for any water activity. Wife loved the color, fit and how little sheer it was. Sheer enough for enjoyment and got lots of complements! Thanks!