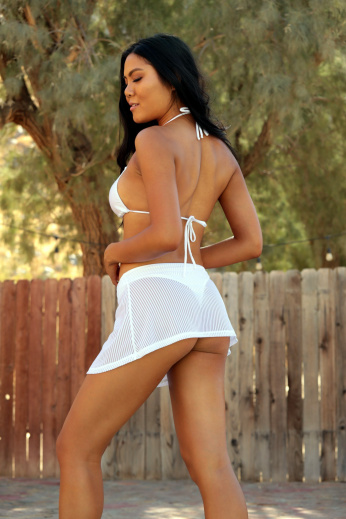 Hover your mouse over an image to zoom.

video
Thong Skirt
(2)
Thong Skirt
This playful little piece is all about fun! The thong/skirt all in one combo is a wonderful addition to your beach, pool or @home outfits. White striped sheer skirt over a white thong. Pair with T shirts, Tie Tee's or any number of Brigitewear tops
from $42.95 In stock! Order now!
in sizes 2-2X
Whether as a cover-up or stand alone skirt the perfect accessory of pool, beach or party
Special Orders: Additional delivery time and/or an additional charge may be applied for special orders including 1X and 2X sizes.
Featured Reviews:
Awesome Thong Skirt
06/01/2021
The Thong Skirt is outstanding. It looks great on my wife and she loves it. She said she wished that it came in other colors besides white. She and I highly recommend this product as well as Brigitewear.
Thong Skirt
05/18/2020
LOVED IT! NICE FIT. SKIRT IS SHORTER THAN I EXPECTED, BUT WHAT I SHOULD HAVE EXPECTED . . . IT IS A THONG SKIRT, AFTER ALL!