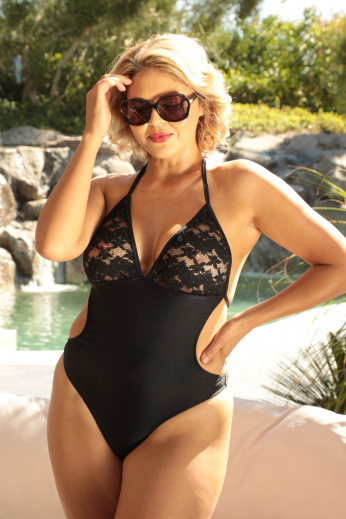 Hover your mouse over an image to zoom.

video
Black Sequins One Piece Rio
(3)
Black Sequins Rio or Thong One Piece
An avant-garde one piece in Thong or Rio that enlightens the senses. Visually slimming, this monokini makes a statement! Shiny black tricot with black lace sequins unlined bra that ties around the back and neck for perfect fit. Comes with crotch lining only.
Available in sizes Small to 2X
The sheer lace stretch fabric, leaves just enough to the imagination. Lining in the crotch only. Available in sizes Small to 2X
Special Orders: Additional delivery time and/or an additional charge may be applied for special orders including 1X and 2X sizes.
Featured Reviews:
Gorgeous suit that fits perfectly
03/25/2021
This suit looks great on my wife. I bought it for our first trip post-pandemic and she's quite excited to wear it. It's an extremely flattering fit, shows things off in just the right places and is perfectly subtle at the right distance. I highly recommend this one.
Love it
04/06/2021
Yes this bathing suit is perfect perfect fur and looks great I got a size 18 and I tried it on and I can't wait to wear it on vacation and the cover up is so cute I'm ready
Black Sequins One Piece Rio
07/20/2021
Bought one for the wife.Fit was great
She wishes that it made in more colors
She loves it.