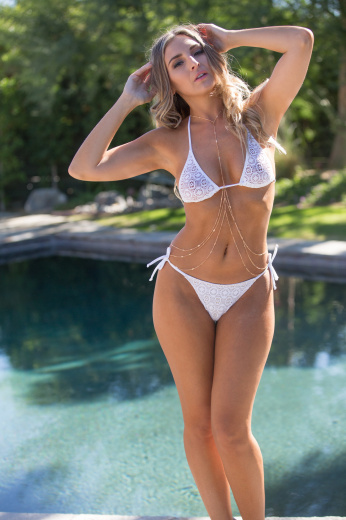 Hover your mouse over an image to zoom.

video
Crochet Bikini Swimsuit
Crochet Bikini Swimsuit
5
Average rating:

(5)
Fashion & Comfort
This striking crochet bikini swimsuit combines fashion with comfort. Low rise bottoms available in rio and thong styles.
This is one hot little bikini. This poly crochet fabric has a two way stretch for a fabulous fit. The unlined triangle is adjustable for just enough coverage. Low rise bottoms with tie sides insure a perfect fit. Pair it with a coordinating Sheer Sarong or Coordinating Cover for a fabulous resort wear ensemble. Available in White or Black
Special Orders: Additional delivery time and/or an additional charge may be applied for special orders including 1X and 2X sizes.
Featured Reviews:
Crochet Bikini Swimsuit

Cute but no support
06/19/2017
The top did not give much support. I don't expect anything see though would support very much in the top, but I was expecting a thicker crochet. This is more of a stretch open-weave material. Runs smaller than all of my other swimwear and I had to exchange it. Looking back, I should've gone up TWO sizes in the top rather than just one when exchanging. I'm still going to wear it though.
Crochet Bikini Swimsuit

Perfect!
07/07/2017
Bought this for my wife. Sheer enough to hint at what's it's hiding without just putting it all out there. I originally thought she'd only wear this in private for me, but she could comfortably wear it in public.
Crochet Bikini Swimsuit

Loved product
05/29/2018
The material is exactly as I hoped. Very good quality. This is my second purchase from Brigitewear. I have been very pleased by both purchases. I will purchase again
Crochet Bikini Swimsuit

Hot Suit
06/19/2017
My husband absolutely loved this top! It's the perfect amount of see through! Amazon by company to do business with! Super fast shipping!
Crochet Bikini Swimsuit

Nice!
07/19/2018
Bought this for my wife and she likes it fits great and I love it also. Looks great