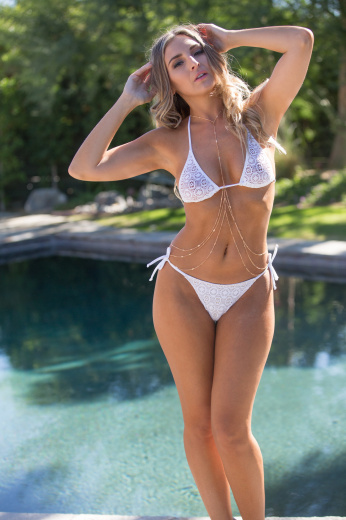 Hover your mouse over an image to zoom.

video
Crochet Bikini Top
(7)
Fashion & Comfort
This striking crochet bikini swimsuit combines fashion with comfort. Low rise bottoms available in rio and thong styles.
This is one hot little bikini. This poly crochet fabric has a two way stretch for a fabulous fit. The unlined triangle is adjustable for just enough coverage. Low rise bottoms with tie sides insure a perfect fit. Pair it with a coordinating Sheer Sarong or Coordinating Cover for a fabulous resort wear ensemble. Available in White or Black
Special Orders: Additional delivery time and/or an additional charge may be applied for special orders including 1X and 2X sizes.
Featured Reviews:
Who Loves it Most
08/24/2019
My wife loves this crochet bottom. It reminds her of a bikini she had when she was young. She is stunning in it. The details are excellent, classy and sexy. The material and construction seem durable. Who loves it more? I do!! We had to exchange for a size smaller and the people at Brigitewear were SO kind and helpful.
This top has just the perfect amount of coverage. At first glance, it seems super revealing and almost skimpy. It catches your eye. But upon closer inspection, the design, style, and quality prove this is a classy and elegant bikini top. It just happens to be super sexy and quite revealing. Love it! Exactly what I was looking for when I went on a search for crochet bikinis.
Wife loves it
12/27/2019
My wife says that this bikini makes her feel confident and sexy... and I must agree!

She has worn this to our community pool and as well to the beaches in the area (our private neighborhood beach and the public beach) and other women have complimented her on the look and feel of the swimwear.

Sexy yet not at all "trampy" looking was how one of her good friends described it. As for the husbands of our friends that have seen my wife in it - they all now know where they can purchased one for their wife; each one has asked!
Cute but no support
06/19/2017
The top did not give much support. I don't expect anything see though would support very much in the top, but I was expecting a thicker crochet. This is more of a stretch open-weave material. Runs smaller than all of my other swimwear and I had to exchange it. Looking back, I should've gone up TWO sizes in the top rather than just one when exchanging. I'm still going to wear it though.
Perfect!
07/07/2017
Bought this for my wife. Sheer enough to hint at what's it's hiding without just putting it all out there. I originally thought she'd only wear this in private for me, but she could comfortably wear it in public.
Loved product
05/29/2018
The material is exactly as I hoped. Very good quality. This is my second purchase from Brigitewear. I have been very pleased by both purchases. I will purchase again
Hot Suit
06/19/2017
My husband absolutely loved this top! It's the perfect amount of see through! Amazon by company to do business with! Super fast shipping!
Nice!
07/19/2018
Bought this for my wife and she likes it fits great and I love it also. Looks great