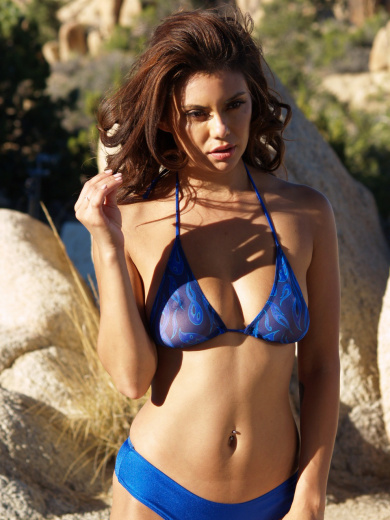 Hover your mouse over an image to zoom.

video
Mesh Triangle Top
(3)
Mesh Bikini - Sheer Mesh Top Great new Bikini Tops combine with new additions to our classic Cannes Bikini bottoms to let you fashion your own look.
Sheer Tops, Sheer When Wet Tops, Lined Tops, Rio and Thong Bikini Bottoms, the choice is yours, the style is your, the look is yours!
Special Orders: Additional delivery time and/or an additional charge may be applied for special orders including 1X and 2X sizes.
Featured Reviews:
One Word - Sexy
06/13/2021
My wife really loves this top. She says that it makes her look sexy... and I agree!

She just wishes that she could have purchased a matching bottom for the bathing suit... then she would be super sexy.
WOW
12/11/2018
If you dare wear it. It looks amazing. Wife looks 20 years younger in it. Fits very good. Had to get the largest size top but fits perfect. Way HOT
See Through Sexy
02/12/2019
This top is perfect if you want a sheer top that is not too obvious. So sexy yet the pattern makes them look twice.