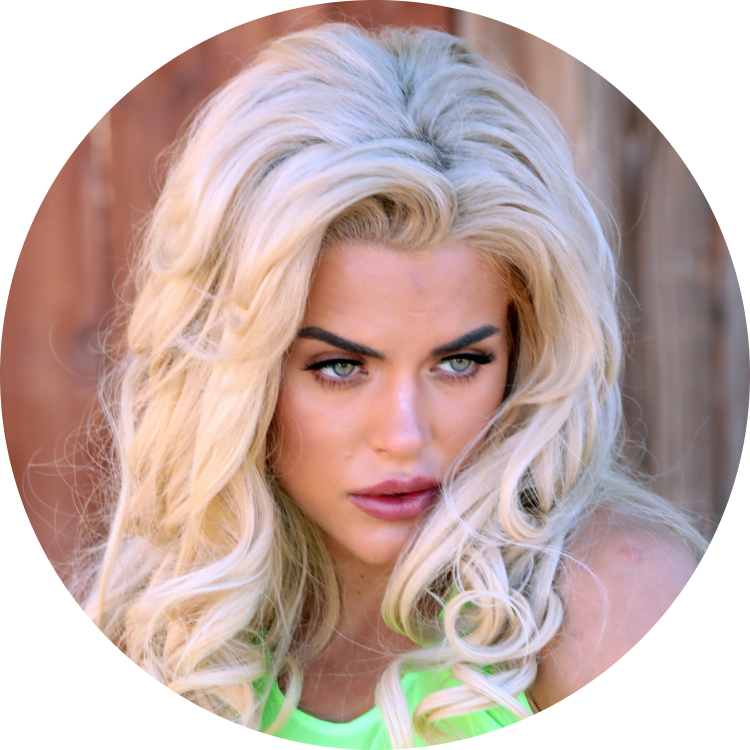 Macy Chanel
About Macy:
Pinup and promotional model whose photos of her work and lifestyle have won her a huge following on Instagram. She has over 40,000 followers on the platform. She was also featured, playing herself, in the beginning of the new Sacha Barron Cohen movie, "Borat Subsequent Moviefilm: Delivery of Prodigious Bribe to American Regime for Make Benefit Once Glorious Nation of Kazakhstan" release by Amazon Studios on Oct 23, 2020.
1. What is your favorite vacation spot?
My favorite vacation spot is any place warm, sunny, and sexy!
Do you have a nickname? If so, how did you get it?
I have plenty of nicknames. I receive all of them by that person's opinion of me. They could be good or bad. Regardless, I will take them all!
What is your favorite piece from Brigitewear?
My most liked piece from Brigitewear is the Thong Skirt with HeartBreaker Top!
What is your go to cocktail?
Cocktails are my middle name! I love a fresh strawberry margarita with Tajin, or something more simple as in a shot or two of Bacardi rum pineapple with a splash of the sparkling coconut pineapple ice to mix. Don't forget the Tajin around the rim too!
What is number one on your bucket list?
I don't have a bucket list. I come up with things as I go and make them happen as time permits accordingly.
Most recent guilty pleasure?
My most recent guilty pleasure is a food dish, pasta!
Sports fan? What are your favorite sports to watch or play?
I do not favor sports; I will watch football on some occasions.
Who is your celebrity crush?
Unfortunately, I do not have a celebrity crush. Everyone is a celebrity in LA. At least they think so. How could you choose one?
What are some TV shows you can't live without?
A TV show I cannot live without would be the show called Ozarks
Want more? Find Macy!
Instagram @macychanelmay
website: https://macychanel.com
twitter: @macychanel