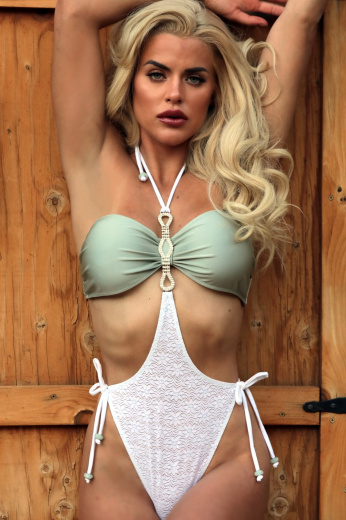 Hover your mouse over an image to zoom.

video
Vintage Bandeau Top
(1)
Vintage Bandeau Top
This vintage Hollywood styled Bandeau top delivers a classic sexy look. Worn alone or with one of our topless suits, it will make a splash. Comes with changeable center piece in Black and Silver.
Sizes S - XL
Great as a cover-up over a bikini top, with jeans, shorts or pair with a white or black skirt for evening wear. Shown above with our sexy Sport Shorts and Cannes Thong bikini bottom.
Special Orders: Additional delivery time and/or an additional charge may be applied for special orders including 1X and 2X sizes.
Featured Reviews:
info
01/08/2020
question. Does this top have padding?