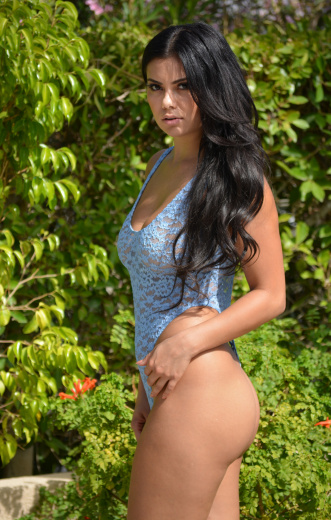 Hover your mouse over an image to zoom.

video
Tahoe One Piece Swimsuit
Tahoe One Piece Swimsuit
4
Average rating:

(4)
Tahoe Sheer Thong One Piece Bathing Suit
Sexy, sheer lace thong one piece swimsuit for women, heads will turn when you wear this exquisite, sultry, sophisticated bathing suit.
Fabulously sexy women's swimsuit is a delicate sheer lace material. The ultimate in femininity. Tahoe, one piece thong bathing suit.
Special Orders: Additional delivery time and/or an additional charge may be applied for special orders including 1X and 2X sizes.
Featured Reviews:
Tahoe One Piece Swimsuit

OMG!
11/30/2016
This arrived faster than I thought, which was great. Fit perfectly! And.... is so sexy, My Captain is going to go crazy when I wear it for him on his boat.
Tahoe One Piece Swimsuit

Amazing
06/28/2018
Wife looked stunning in it. The suit fit her so perfect. Would love to see her wear it to a private beach.
Tahoe One Piece Swimsuit

Love This Suit
07/09/2018
Super comfortable and really sexy. I just love the way it fits and looks on me.
Tahoe One Piece Swimsuit

Sheer suit
04/18/2017
Looked and fit great. My lady looked beautiful and she loved it