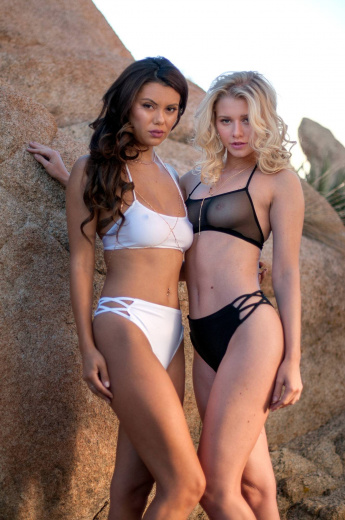 Hover your mouse over an image to zoom.

video
Seamless Sheer Bikini Top
Seamless Sheer Bikini Top
2
Average rating:

(2)
Seamless Bikini Top – The ultimate in smooth, sensual, and sheer. This sexy top is available in black mesh and solid white which lets you decide how transparent you want to be. White is sheer when wet. With no side seams, and a criss cross adjustable tie back, it provides the perfect fit and fashion details.
Pairs well a variety of Brigitewear mesh and solid bikini bottoms in thong or Rio. A special thank you to our models; Alena Savostikova, Danielle Ruiz and Zoie Jaxson
Special Orders: Additional delivery time and/or an additional charge may be applied for special orders including 1X and 2X sizes.
Featured Reviews:
Seamless Sheer Bikini Top

White Top
06/29/2018
I've never written a review but I'm so satisfied with this top I felt like I had to offer some sense of ease to the skeptics like I was! I purchased a white seamless top and let me tell you! I've been searching for a top that I felt confident in for a very long time. I also got my nipples done a while back and I wanted to show them off; another confidence booster I might add! The sizing chart was true to size which was a relief because you never really know when shopping online! One thing I really like about the top is it's just barely see though when dry and very very see through once wet! So sexy! It's a great surprise factor and my man loves it!
Seamless Sheer Bikini Top

Definitely Turns Heads
07/17/2018
I wasn't too sure about wearing something this revealing out on the beach but my husband talked me into it. I got so many compliments and jealous looks from other women... It made me feel great. The top and bottoms fit and feels wonderful. Many more sheer bikinis to purchase from you in the near future