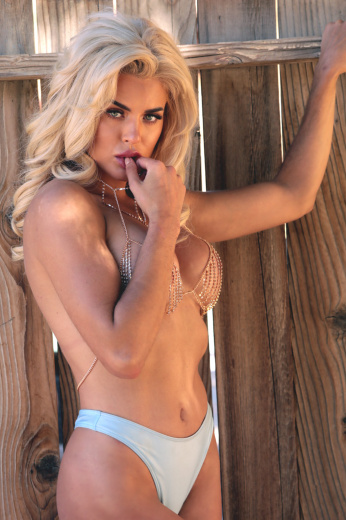 Hover your mouse over an image to zoom.

video
Jeweled Chain Bikini Top
(1)
The Jeweled Chain Bikini Top - If you're daring, wear this sizzling top alone or wear it over an existing bikini top. Whichever you choose, this stunner will make an impact. Completely covered in shiny rhinestones, the top is stunning and dazzling in the sunlight! One size. Bottoms available from $28.95.
(Sizing: Under bust width 34", fits to cup size DD.
(see additional notes below on sizing)*
Pair with any number of bottom options. Wear as an addition over your bikini top, or wear it alone. Note: All jewelry items are imported *Top tier chain may need to be removed to better fit.
Special Orders: Additional delivery time and/or an additional charge may be applied for special orders including 1X and 2X sizes.
Featured Reviews:
Un peu petit
06/21/2020
Hello C'est un très bel article qui risque d'être peu utilisé car les jeunes filles sont prudes et les femmes mûres ne peuvent pas le mettre! Il manque environ 15cm de chainette dorée sous le buste ce qui empêche de fermer. Je vais rechercher un bout de chainette doré et bricoler une rallonge. Car cela reste un très bel article. Faites une étude de marché pour cibler votre clientèle d'articles osés. Et vous verrez qu'il faut "rallonger les chainettes" mais cela vaut aussi pour le reste.s