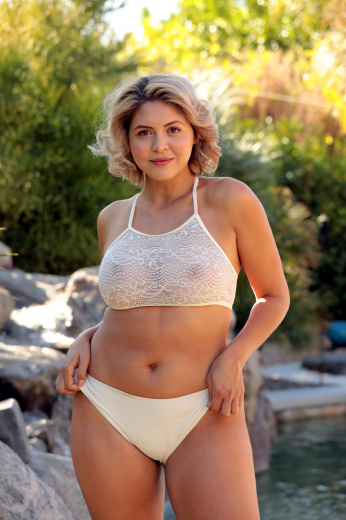 Hover your mouse over an image to zoom.

video
Freestyle Top
(1)
Freestyle Bikini
Sexy and Supportive! This higher cut top can be as revealing as you want. Offered in a lined and unlined version. Fully adjustable, this top fits securely and works great as a sport top.
In sizes XSmall to 2X
Special Orders: Additional delivery time and/or an additional charge may be applied for special orders including 1X and 2X sizes.
Featured Reviews:
Perfect for low hanging girls
01/25/2022
Okay let's be real, some of us have girls that hang lower or look downward, and I'm one of those people. This top fits SO well. It feels high quality and very comfortable when you wear it. It points my girls in the right direction and feels like a comfortable sports bra. The way the back ties also gives you extra support because of the x in the back. It creates a wide band around your ribs that helps support your girls. On a bikini top, the place where you get the most support is the band, so that's very important! The lace also obscures your nipples enough to make it seem just racy. You can just see the darkness under the fabric. I also ordered the lined version because it fit so well. Great for people who are plus sized. I, myself, am midsized and usually wear XL. My husband is crazy about these tops as well! I would highly recommend Brigitewear due to the quality of the material, the fit, and the way the top makes me feel. I honestly can't recommend this top enough!!