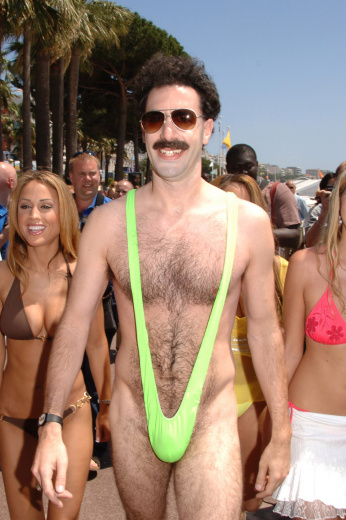 Hover your mouse over an image to zoom.

video
Borat Thong Swimsuit
(2)
Have you seen the movie:? "Borat Subsequent Movie film: Delivery of Prodigious Bribe to American Regime for Make Benefit Once Glorious Nation of Kazakhstan"
Classic Suspender Thong for the "Sexy Man (or Woman)" Our version of what is sure to become a "Classic Hit" for Men or Women! Does this suit look familiar? Now own your own. Get a laugh from your friends, whistles from the girls or guys, or just smile to yourself as you stroll along in this classic timeless design. For the comedian or just the "sexy man (or woman)" in everyone. Great for tanning too! Get yours today and join in on the fun! The suit is lined in front. One size fits most men (and women) from 5'2" to 6'5" in height.
Brigitewear is proud to have been selected to produce the Borat Thong for the hit Movie of the same name. This timeless suit is a perennial best seller and sure to be a hit and bring a smile!
Special Orders: Additional delivery time and/or an additional charge may be applied for special orders including 1X and 2X sizes.
Featured Reviews:
Super funny
06/27/2014
Wore this to a party and got more laughs and some unexpected positive comments from a few of the ladies.
Mankini
10/29/2020
Love this suit. Can't wait for warmer weather.