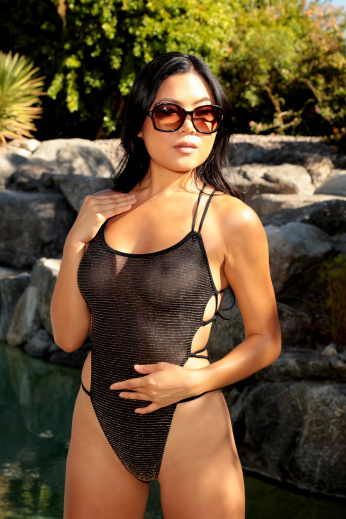 Hover your mouse over an image to zoom.

video
Aphrodisiac Gold
(6)
Aphrodisiac Gold One Piece
Pulled together in all the right places, the Aphrodisiac Gold lives up to it's name!
Casings for free flow of straps are located throughout the suit. Fully adjustable bra style strapping underneath the arms, allows you to feel secure in this racy one piece.
The sheer gold embossed stretch fabric, leaves just enough to the imagination. Lining in the crotch only.
Available in sizes XSmall to plus size 2X
If you're looking for a truly feminine statement in a bathing suit, look no further than the Aphrodisiac Gold sheer one piece by Brigitewear. Available in sizes 0-22.
Special Orders: Additional delivery time and/or an additional charge may be applied for special orders including 1X and 2X sizes.
Featured Reviews:
New favorite
08/25/2022
This is my new favorite suit. It is what everything I was hoping for. The back is a strappy thong but the front is a one piece. So a mullet of the swim suit world. Though the front is really pretty, hides my tummy and is a little sheer. I paired it with a lace pants cover up.
.
Bday Baddie
03/25/2022
This is the cutest swimming suit of all times like seriously it's so worth the price I love everything about it the front is actually not tooooooo revealing but you can slightly see through it bouta be the baddest beach on the beach wear with confidence
The cutest piece ever
04/13/2022
Listen huntttyyyy when I tell y'all this suit is everything you gotta be a bold beeeeetch to step out in this hot number but it's true to size very beautiful as pictured if you're ready to see and be seen don't think twice
STUNNING and strappy
08/01/2023
The strappy design of the back and sheer thong of this swimsuit is stunning. Very flattering front high cut around legs. Would love to get this in plain black (without gold) for even more of a sheer look.
Comfortable
03/13/2023
Very comfortable thong swimsuit, sexy back design which you can loosen slightly if you like, had to order a second as i got a little velcro stuck on it and pulled the mateial, but that was my fault.
Beautiful/Different/Good Customer Service
09/14/2022
Its nice to find a business that makes different and beautiful things but also has great customer service. Thank you.