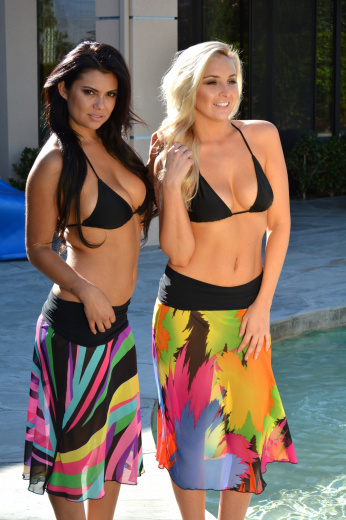 Hover your mouse over an image to zoom.

video
Santa Monica Skirt/Dress
Santa Monica Skirt/Dress
1
Average rating:

(1)
This extremely versatile Sheer chiffon skirt/dress can be worn as a beach cover or a sexy skirt or dress. With just the right amount of subtle sheerness, it will be a hit wherever worn. Limited sizes and colors available.
Great for beach, pool or party, this stunning creation lives many lives. Wear it as a skirt with your favorite bikini top or pull it up as a dress. Fold down the top low or higher for more cover Available in our exclusive Splash or Stripes patterns.
Special Orders: Additional delivery time and/or an additional charge may be applied for special orders including 1X and 2X sizes.
Featured Reviews:
Santa Monica Skirt/Dress

Sexy see thru
05/07/2015
Wow love the look as I walk around our back yard with the wind just blowing softy and the heat from the sun shielded just enough