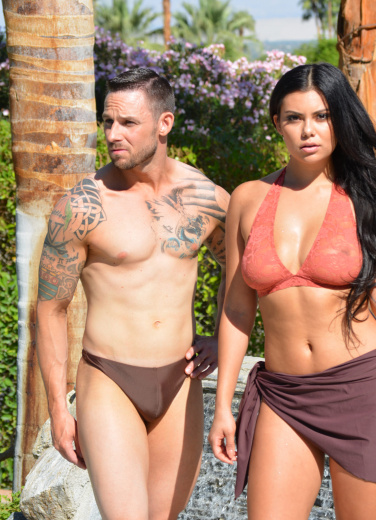 Hover your mouse over an image to zoom.

video
Low Rider Men's Thong Swimsuit
(7)
Men's thong bathing suit
This suit features a low cut styling with a small profile back designed for the confident man. With a fully lined front and lower cut than the Azur, it makes the perfect swimsuit for sunning, tanning or play. The Low Rider men's thong swimsuit exclusively by Brigitewear. Available in 4 colors
Low Rider men's thong swimsuit exclusively by Brigitewear. Sexy minimalist design available in a variety of colors the pinnacle of men's fashion for the pool or beach.
Special Orders: Additional delivery time and/or an additional charge may be applied for special orders including 1X and 2X sizes.
Featured Reviews:
Comfortable and well-made
08/18/2020
My partner has now worn this out a few times and is very pleased. The overall construction is quite good. He finds it to be comfortable and that it stays in place while swimming, sunning, and just hanging out on the beach. While the profile is a bit risque for smaller community beaches, we look forward to testing it out more openly on a Mexico trip next month. He was worried about the low-rise, but finds it to be quite accommodating and well-cut.
Awesome suit
01/23/2015
I purchased this suit for my husband and he loves it. It is more comfortable than he expected and is very well made. It may seem a little pricey but for a quality item it is worth it. I wish it were available in more colors.
Great Suit
06/01/2020
Wonderful fitting suit... sexy.. liberating ... order process was easy and when I made a mistake with my order , there staff was immediate to respond and fix my mistake.. thank you
Best swim thong
08/09/2021
I have several swim thongs from different brands, these are the best I own. Excellent construction, fit is spot on. Great quality. Will definitely order more.
Great suit
12/05/2017
Top quality material and design. I have worn other thong swimsuits but none have ever looked or worn as good as the suits from Brigitewear.
Great swimsuit
10/09/2021
Great fit and comfortable. They always bring attention weather at the pool or beach. My wife loves when I wear the thong in public.
Fit
07/25/2022
Fitted perfect