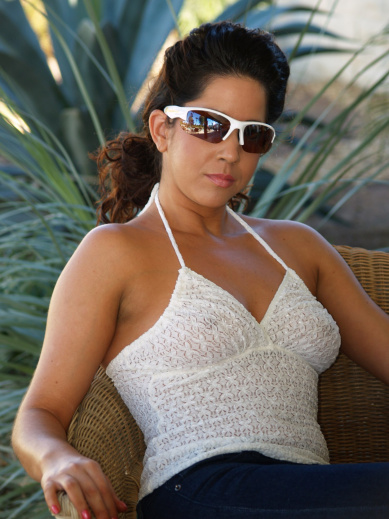 Hover your mouse over an image to zoom.

video
Lovely Lace Sheer Top
Lovely Lace Sheer Top
8
(8)
Subtle Seductive Sexiness
This sultry, lacey, halter type sheer top is a poly cotton, lycra blend which allows for a truly comfortable fit. The drawstring neck ties encircle the entire back which allows for variable styles of wear while maintaining maximum comfort.
(Some color/sizes sold out)
Note: fabric patterns may vary from those shown
Special Orders: Additional delivery time and/or an additional charge may be applied for special orders including 1X and 2X sizes.
Featured Reviews:
Lovely Lace Sheer Top
Lovely Lace Top Review
05/11/2020
The Lovely Lace Sheer Top that I procured for my wife fully meets her and my expectations. The fit is perfect for her, and the fabric is quite comfortable. This design is also quite fashionable and alluring.
Lovely Lace Sheer Top
Surprisingly soft.
05/06/2016
My wife has worn this top at our pool but said it would be too sheer to wear without something over it. She chose the white which is quite sheer even when dry. It is soft, sexy and great quality.
Lovely Lace Sheer Top
love it
10/07/2019
ordered 1XL to allow the blouse to be a little loose. husband loved it. was perfect for relaxing in jean shorts and even better for dressing up with earrings, necklace, and hat for a dinner date.
Lovely Lace Sheer Top
Incredible sexy top
07/06/2018
This works very nicely for the well endowed. It's sexy , stretchy and somewhat see through. I will buy it again, if necessary. Only time will tell how it stands up
Lovely Lace Sheer Top
Awesome
09/11/2017
This top a little small to size. Would have ordered next size up to give a loose fit as shown in picture. Great quality and service
Lovely Lace Sheer Top
So comfy!
05/06/2019
Fits as described and is super soft! Because it's so soft, you could probably go down a size if you wanted a super snug fit.
Lovely Lace Sheer Top
Great Top
06/01/2020
Wife looks great in this top. just do not wash with red clothes as you end up with pink top :)
Lovely Lace Sheer Top
Lovely Lace
05/13/2014
I lovvvvvve it - sexy