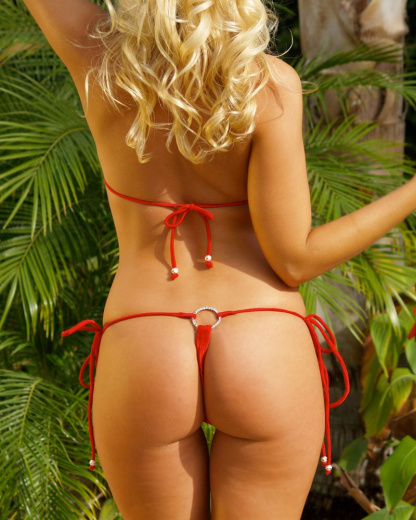 Hover your mouse over an image to zoom.

video
Jeweled Ring Bootie Bling Bikini
(2)
This alluring G-String style bikini bottom with its rhinestone covered silver ring and bright silver bead accents will be sure to dazzle. The tie sides allow for a perfect fit. Sexy, stunning, sensuously sizzling! Pair with the matching bikini top for the perfectly luscious poolside and beachwear.
G-String bottom is lined in front, triangle bikini top is fully lined.
Combine with a coordinating Sarong, either sheer or solid, and go from beach or pool to party with ease.
Available in romantic Red
Fully lined front with rhinestone bling connector. Metal silver end tie beads both top and bottom. In sizes 2-22
Special Orders: Additional delivery time and/or an additional charge may be applied for special orders including 1X and 2X sizes.
Featured Reviews:
I Love The Thong Bikini Bottom
09/22/2014
Over the summer I purchased this product, the Jeweled Ring Bootie Bling Bikini and I must say at first I was a bit hesitant but I really wanted a bikini that was just completely different. When I go the package at home I was ecstatic, the fabric is high quality and feel great against the skin. The design is gorgeous, plus the color I ordered was Romantic Red but there are 17 colors to choose from if you're not a fan of the color red. When I tried on the bikini I was pleasantly surprised that it fit so well. I am a size 1 so I need clothing that fits really well since I don't have a lot of curves to work with. The thong was really comfortable and the fabric felt amazing. At the beach I wore it with my husband of course and he loved it. I got a lot of attention from him that day so I know I made the right choice. This thong bikini is so cute with the jewels and design that you feel like a million bucks when wearing it, definitely a good investment for the pool or beach.
Sweet Cheeks
03/11/2021
Hot tub last night. Fit was perfect! Couldn't be better. Front coverage is modest with the best g string back!