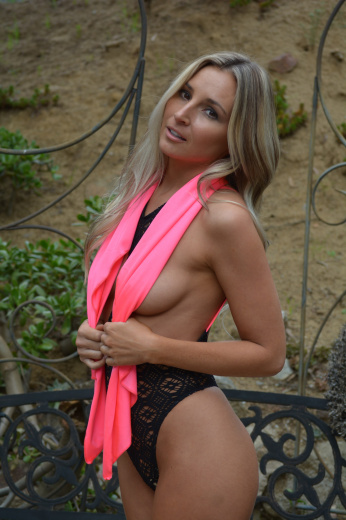 Hover your mouse over an image to zoom.

video
Crochet Topless One Piece
Crochet Topless One Piece
3
Average rating:

(3)
Crochet topless thong women's bathing suit. A terrific sexy swimsuit to wear in private, on those special occasions with your significant other, or on the Riviera or anywhere you're comfortable. An extremely flattering suit, the see through high panel front covers the tummy while the exotic thong swimsuit bottom, with crotch lining in front and unlined in back, makes this one of the most exciting suits that you will own.
Take the plunge. You only live once: Crochet Topless Swimsuit one piece thong by Brigitewear. Special thanks to our model Tashia McIntosh
Special Orders: Additional delivery time and/or an additional charge may be applied for special orders including 1X and 2X sizes.
Featured Reviews:
Crochet Topless One Piece

Excellent products
04/11/2017
Excellent swimwear with great options to modify for own design, customer service was great and the order was quick to be made especially since it was custom. The swim suit arrived and my wife looks amazing in this swimsuit with a lower thong bottom and the open top to allow her to be topless is so sexy and amazing covering only the front area. really sexy. I cant wait to spend time on the beach with her wearing this. Excellent products, wish they had an Australian re seller :-) Thanks Heaps Brigite again :-)
Crochet Topless One Piece

Perfect
02/06/2016
The Crochet Topless fit exceptionally well. I'll try to talk the lady into sending you pictures (Do you have an ip address to send them to?)
Well, who wonders, French design from a French girl for a French girl!
Crochet Topless One Piece

Crochet Topless
12/24/2018
Very nice piece of swimwear!