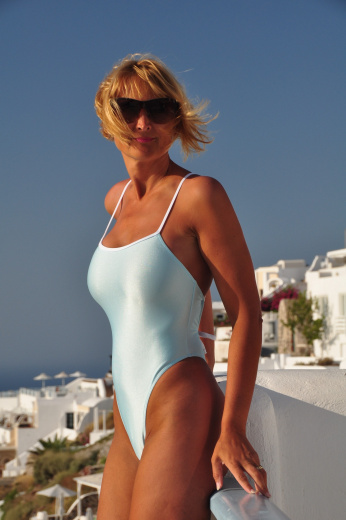 Hover your mouse over an image to zoom.

video
Crisscross Thong One Piece
Crisscross Thong One Piece
4
(4)
This form fitting thong one piece swimsuit accentuates all the positives. It is also available with a Rio bottom. The unique crisscross back ties are functional as well as visually exciting. Designed to hold the bathing suit securely in place while relieving pressure to the neck makes this swimwear perfect for swimming or vigorous sports. Combine this sheer bathing suit with our coordinating Sarong for a go anywhere Summer Stunner! In Baby Blue or our exclusive Painted Jade in sizes 2-20
The "baby blue" tricot fabric does appear sheer when wet, where the printed "painted jade" will be more opaque. The suit has a lined crotch.
Special Orders: Additional delivery time and/or an additional charge may be applied for special orders including 1X and 2X sizes.
Featured Reviews:
Crisscross Thong One Piece
Finally
01/29/2016
Santa (AKA my sweet husband) bought me the Crisscross Rio one piece, in the baby blue colour.

I love it. I have a couple of one pieces, but this is by far my favourite. It looks wonderful with a pair of heels.

It is great for just spending a day lounge around in and I cannot wait until we have some decent summer weather here!!!

Not only is the design flattering, the suit is so light and soft. There is no tightness either across the back or the bottom. Because of this it feels as though I'm naked.

And yes my husband has poured water on it to see how shear it is, let me just say he thinks Santa spent his money wisely.
Crisscross Thong One Piece
Wow! Just Wow!
10/25/2016
The fit was amazing on my wife. It fit perfectly and after getting her Into the shower, it was awesome! That is really all I can say, Wow!!
Crisscross Thong One Piece
Top quality and workmanship
05/01/2018
Wonderful thong swimsuit, top quality and workmanship for a very reasonable price. My friend has emfolen her already !!!!!
Crisscross Thong One Piece
Great suit
01/21/2018
Great fit for any shape.