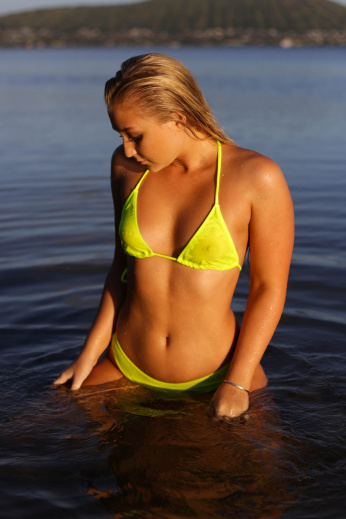 Hover your mouse over an image to zoom.

video
Cannes Bikini
(17)
A must have bikini. The Cannes by Brigite exclusively for Brigitewear . There is nothing sexier than the tan you get when wearing a Cannes bikini.
Brigite's classic bikini swimsuit, the Cannes, will surely become one of your favorite bathing suits. Add a sarong cover-up and have an outfit for day, and evening wear! Now you may order the bottom only for a great topless suit at a terrific price! For an extra sexy look, the new "Sheer When Wet Top" is sure to be a hit!
Add a sarong or cover-up and have an outfit for the day! Now you may order the bottom only for a great topless suit at a terrific price!
Also available with a sheer top in select colors
Special Orders: Additional delivery time and/or an additional charge may be applied for special orders including 1X and 2X sizes.
Featured Reviews:
Liked it very much
01/06/2020
My husband bought the bikini for a much postponed family vacation we finally took just one week earlier of giving birth. At the beginning I was hesitant because I was heavily pregnant, but soon relaxed and spent the whole week sunning poolside my big baby bump all day long in the red bikini. Meanwhile my husband took care of our two daughters. I returned much more relaxed. Most swimwear is made for petite girls and I feel like being cut-in-half. The bikini is very comfy and is available for a big (and also pregnant) babe like me. It fit me like a glove.
In retrospective, I'm glad I did wear it. My husband will almost for sure buy more.
Cannes Thong
09/11/2018
I bought the Cannes thong for my gf in neon lime to wear with her neon lime sheer t. She wore when we went to the Caribbean and she got many great comments from both men and women. Being so sheer especially when wet drew many people looking which she thoroughly enjoyed. Great quality!!!!!
Great Suit
04/27/2018
The quality of this suit it higher than I anticipated. It fit well and I love the color. I was looking for a bikini bottom that was high enough in front to cover a scar, but a thong back. This suit is perfect
Cannes thong bottom
11/26/2013
Good telephone support, Item promised and received on time Perfect fit, nice quality Will be making another purchase this week
Vegas '16
06/16/2016
Every item fit perfectly and made the European Pool time fun and exciting. We will be ordering the thong and G-string soon
perfect
11/26/2013
I was surprised with the quality of this thong. Very nice color and material, also the size was perfect. Thank you!
Looks great
04/07/2021
I had a top custom made for my wife in red. The top looks great. Can't wait to see it on her at the beach!
Comfort
12/05/2017
Purchased this suit for my wife. She says this is the most comfortable swimsuit she has ever worn.
confused on pricing
04/25/2023
confused; are the tops and bottoms sold separately or as a set?
Cannes Rio
11/26/2013
Nice. Might buy one more. Wish bottom came as unlined string.
Nice!
11/26/2013
Just as usual from this company, perfect as expected
Cannes Thong
11/26/2013
Very pleased with this purchase. Just what I wanted.
Love!
02/20/2022
great quality material, bright vibrant colour!
Cannes Rio Bikini
03/23/2018
Lovey for the hot sunny weather in the beach
Love them
03/14/2019
Perfect fit, very very sexy.