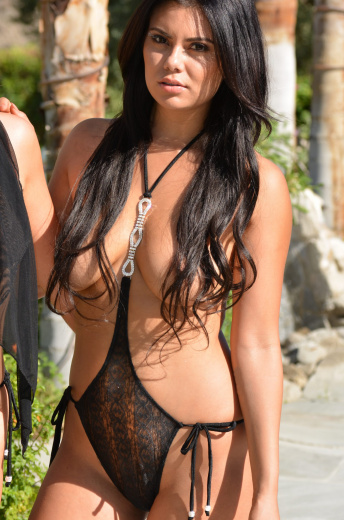 Hover your mouse over an image to zoom.

video
Riviera Topless One Piece Swimsuit
Riviera Topless One Piece Swimsuit
3
Average rating:

(3)
California Riviera Topless One Piece Swimsuit
Tantalizing one piece women's topless bathing suits by Brigitewear. Absolutely one of the sexiest swimsuits you will ever wear. Sheer black lace front panel with crotch lining leads up to a spectacular rhinestone connector strap between the breasts.
Available with a thong or Rio bottom option, this bathing suit is meant to sparkle and shine. Select any one of numerous top options for a wear anywhere outfit. Exclusively by Brigitewear.
(Note: The Riviera utilizes a very light, delicate lace material that is not intended for everyday wear, rather those few special times when only the the most provocative will suffice)
Special Orders: Additional delivery time and/or an additional charge may be applied for special orders including 1X and 2X sizes.
Featured Reviews:
Riviera Topless One Piece Swimsuit

Love
07/09/2015
I absolutely loved this suit! I have a large bust. Very curvy hips. And a small waist. This suit flattered my shape in all the right places. Just wish I could wear it around our pool. ;) Instead I'll have to stick with clothing optional resorts. ;) Note. The material is on the frail side. I wore it for 3 days in a row. Nothing crazy. Just lounging by the beach. I just don't see it holding up to last as long as how much I paid for it.
Riviera Topless One Piece Swimsuit

hot wife loves it
07/10/2016
My wife bought this for her lover's enjoyment. I was forced to stand and watch as he made passionate sex with her. She has never acted that way with me. Your sales lady was very helpful in helping pick out this suit. She stated that my wife would love it and she was exactly right.
Riviera Topless One Piece Swimsuit

Riviera Topless
05/10/2018
Fits perfect! And looks amazing! My wife loves it. Highly recommend!