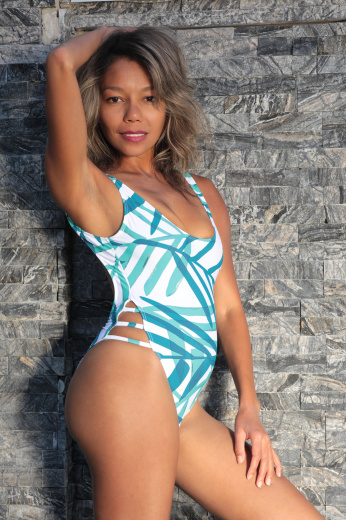 Hover your mouse over an image to zoom.

video
Breezy One Piece Swimsuit
(22)
Breezy: adjective \ˈbrē-zē\;
briskly informal, airy, nonchalant, affable, easygoing, devil-may-care.
The definition says it all. You will be all these and more when you show up in the Breezy Sheer One Piece Rio Swimsuit. Lining is in the crotch only and available in sizes 0-22
New Colors for 2024: The vibrant and tropical touch of Palms and fun, tantalizing Watermelon.
Note: Orders with Lining, Strapping or Color changes are custom made & are non-refundable, non-exchangeable. Allow up to 9 additional business days for production.
With a crotch lining only, the Mint Julep, Palms and Watermelon are mostly opaque when dry, but more transparent on top when wet. The low cut front and plunging back together with the extreme high cut sides create the perfect balance of sexiness and sensuality.
Available in our exclusive Watermelon, Palms and Mint Julep colors
Special Orders: Additional delivery time and/or an additional charge may be applied for special orders including 1X and 2X sizes.
Featured Reviews:
Breezy Midnight Sky
12/18/2018
Brigitewear Customer Service was outstanding! Anticipating the transparency level was more subtle in this fabric, I bought this one piece suit for my wife to wear at a more public beach or setting. SHE LOVES IT!. The sheerness level is no different wet or dry. It is just enough to play tricks on the eye, yet enough to give her a huge boost in confidence. It does appear to be a little more sheer in bright sunlight. This fabric has a high stretch factor so the more it stretches to fit your body, the more transparent it becomes so size up or down according to your preference. She is 5'4" 135 with a longer torso and the Medium fit like a glove. This is a very classy looking suit. The first one-piece that fits well and she loves in about 15 years. I am stunned at the confidence boost unlined and semi-sheer mesh swimwear fabrics have given my wife in the past two years. According to her, they fit better, feel better, and look better. I'm lovin' it and can't wait till vacation and summer!
Really sexy suit but straps roll outward.
10/22/2018
I finally got my wife to wear super sexy swim suits and dresses on vacations! She is 5'6" tall, 170, with nice curves! She wears a size 8-10 and DD bra. This suit fits nicely and looks really sexy on her. We leave for vacation tomorrow and she has some concerns (because I ordered without a liner) and she doesn't know how transparent it will be when wet! The straps do roll outward. We might make need to make a slight alteration across the back to hold them in place.
Just what I needed
07/26/2022
I like to be as bare as possible out on the beach. Sometimes you need something with a little more coverage. This suit is perfect. It give the coverage without losing how sexy it is. This suit is perfect in the fit, fabric and the sexiness. I have bought a lot of suits here and I love them all. You can't go wrong. And they ship out so quickly!
Breezy Sheer swimsuit
11/25/2013
Bought this for my wife for our trip to Cuba in Sept , This is one hot piece . The fit was perfect nice and tight on her small frame (5'-0") and the color is nice and soft . Quality is exceptional , shipping was quick . I would rate this at five stars . Best Regards Pete
Awesome Swimsuit
06/05/2018
Got this swimsuit in black for our trip to Vegas. Everyone loved it, and my husband loved the fact that everyone liked it as well. Good fit; true to size. It appears the more it stretches the more it shows, so perhaps moving up a size would reduce transparency.
Five star for sureFive star for sure
04/21/2015
Wow very hott fits great and I didi not know it was see thru we my husband gave it to me made for a very hot night in the hot tub fits great and he said it looked great , and so did every body else that was there can't wait to wear it again ! Thank you
Well Pleased
04/15/2020
Went for the mint julep which looks great, is a perfect fit and the material and finish are very good too. A great success and beyond expectations so many thanks from us both. Not yet tested in wet mode but not expecting to be disappointed. Many thanks
Nice Suit
09/16/2016
Not as sheer as I had hoped, but looks great anyway. My wife liked and looked great in it. When it's dry, it is solid, when it gets wet, is just sheer enough to let the imagination run wild, but not enough to see right through.
Breezy one piece
02/06/2017
Absolutely fabulous. We both LOVE it .. the fit is awesome and it enhances all teh right places. Certainly serves the purpose for which it was bought - to show and entice.
Breezy
08/18/2021
The product was shipped quickly! Had to return it for a different size and it was seamless! Great company to deal with and the swimsuit is everything it says! 5 Stars!!
Perfect
12/30/2021
This swimsuit is exactly like description. We have bought it with adjustable strap and for my wife it's the good choice because she has 100 of bust.
Nice Suits!
11/25/2013
I think the Brigitewear suits are more beautiful than anything online or in any store. They are perfect without being too much for the public beach.
Great product, great service!
08/05/2019
Ordered the M mint julep for my wife. Had to exchange it for a different size. The suit is perfect and the exchange was hassle free.
Perfect
06/24/2018
This swimsuit in black shows discreetly when dry in the light, just enough. This is the most comfortable swimsuit of all.
Excellent fit and super sexy
03/31/2021
I'm in love with my new suit. It fits true to size, and the sheerness is excellent. I bought this for a trip to the beach.