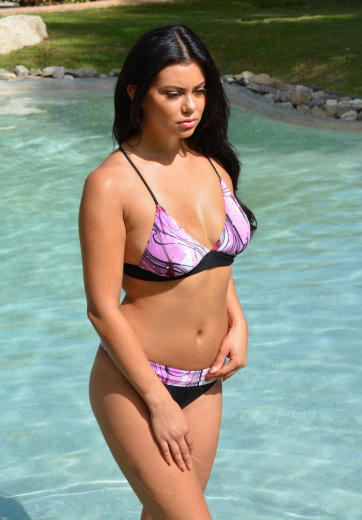 Hover your mouse over an image to zoom.

video
Avalon Bikini
Be the first one to write a review
Sheer Thong or Rio Bikini Avalon Thong or Rio Bottom Bikini from the California Collection. "26 miles across the Sea, Santa Catalina is a-waitin' for me". Great lyrics from a great 1960 song celebrating California. This suit offers crisscross strapping over the back for ultimate comfort and support. Stunning hologram fabric with a classic athletic design.
Avalon, that famous little seaside community on Catalina's eastern shore was the inspiration for our newest bikini from our California Collection. Athletic functionality combined with sophisticated style. The wide band bottom and criss-cross wide band top makes this bikini perfect for action sports such as surfing, volleyball or any activity requiring support and comfort. Stunning fabric with a classic athletic design.
Special Orders: Additional delivery time and/or an additional charge may be applied for special orders including 1X and 2X sizes.