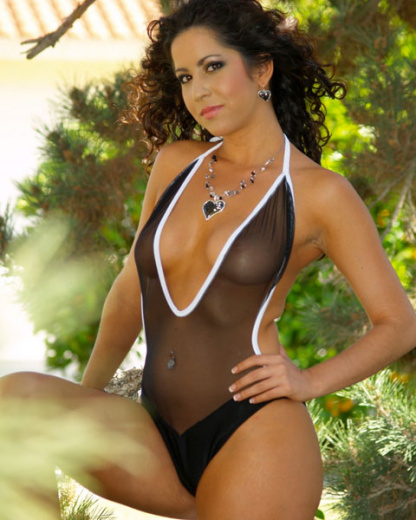 Hover your mouse over an image to zoom.

video
Allure Sheer Top One Piece
Allure Sheer Top One Piece
2
Average rating:

(2)
Allure: al·lure ( loor', a-);
transitive verb, to tempt with something desirable; attract; entice; fascinate
The definition says it all. This fabulously sexy one piece swimsuit is sheer, transparent and see through on top with a solid lined Lycra bottom. Daringly seductive, deliciously stunning, the perfect balance of sexiness and sensuality.
Special Orders: Additional delivery time and/or an additional charge may be applied for special orders including 1X and 2X sizes.
Featured Reviews:
Allure Sheer Top One Piece

So sexy
09/25/2018
My husband bought this suit in royal blue for our trip to the Dominican Republic. I can't believe how comfortable and daring it is. Can't wait to wear it at the beach and see what kind of reaction I get. I have never worn anything this revealing, but am looking forward to it soon.

Allure Sheer Top One Piece

sexy
05/22/2015
Beautiful sexy suit with sensual class